I'm ashamed to say, sometimes I don't blog something because my photo was not good. Is that a good reason? NO. I have gotten a little better with the camera as time went on. But sometimes I just never got around to blogging it.  On the last day of the year, I have for you good, bad, and ugly photos of wonderful Catholic events from 2012.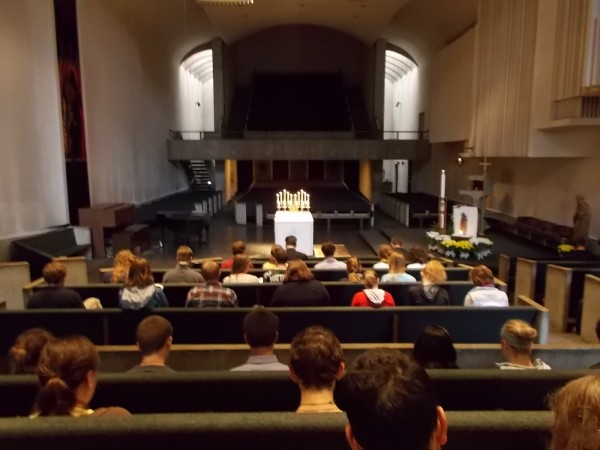 This is one of the best things going on downtown, Eucharistic Adoration (8am) and morning prayer (9am) weekday mornings at St Paul's, with many students in attendance. This is on a Thursday when there is Exposition; other days of the week the Blessed Sacrament is placed on the altar in the ciborium with a ciborium veil. Above, you can see there is a good attendance of students (sometimes there are more like 40 or 50), in that photo they are praying Morning Prayer. Below, Jesus and Fr Eric Sternberg.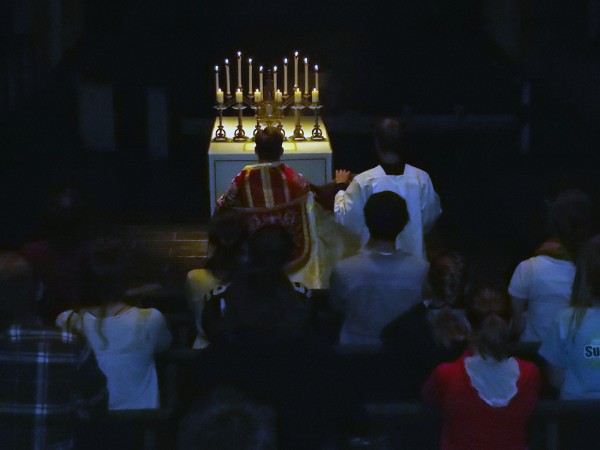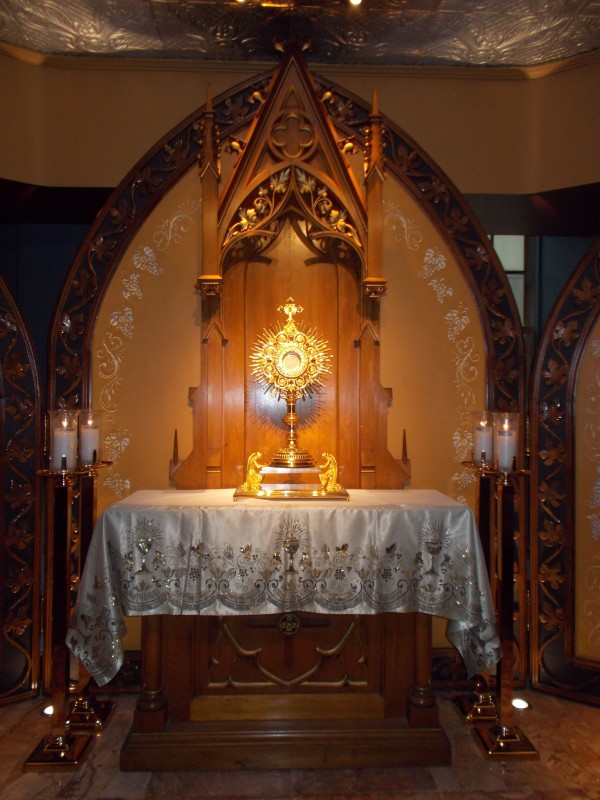 And of course down the street at Holy Redeemer Church is the Perpetual Eucharistic Adoration Chapel where you can and should come to keep watch with the Lord at any time, and should perhaps consider signing up for a scheduled hour.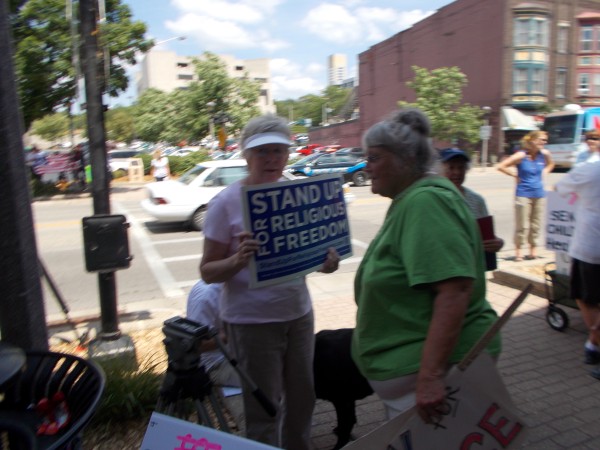 Since I started in April, I've had about 22,500 page views. Thanks to links from much larger sites like Fr Z's blog, the largest amount of traffic was generated from my two posts about Jeanne Breunig's and my adventure to give the famous "Nuns on the Bus" a hard time, and then uncovering their political and funding links (my other biggest traffic post was a very simple post about Fr Z at Holy Redeemer Church–people are THAT interested in what Fr Z s up to!). Jeanne and I were not the only ones giving Sr Simone and co a hard time in Janesville, though. There were also two faithful religious Sisters who waded into the crowd and captured press attention by their declaration that they didn't agree one bit with the Nuns on the Bus and were ashamed of them. The blurry picture above, in which the "nose" of the bus is visible on the right in the background, shows another wonderfully courageous protester who, like Jeanne, came with a Stand Up For Religious Freedom sign. And I really think the most of her bravery since she was by herself and when I went up to her, she was so nervous in the midst of the liberal horde, that it took her a little while to realize I was a friend.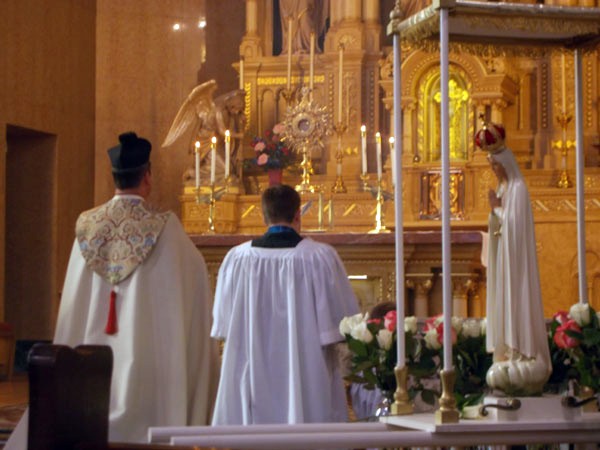 That's the Blessed Sacrament and the excellent Fr John Sasse of St Patrick's Parish in Cottage Grove, who led the October Rosary March at Holy Redeemer Church. I don't think this photo is bad, it's not sharp but rather gloriously beautiful.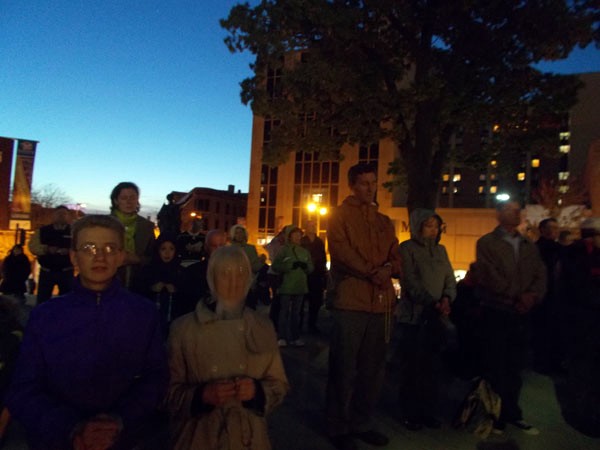 The Thursday evening Capitol Rosary Rallies (which indeed I did blog earlier) continued even in the dark and cold until early November, and to the end there would still be around 50 people (down from hundreds earlier on). After that, they didn't actually stop! The Rosary Rallies continue on Tuesday evenings at Fr Rick Heilman's St Mary of Pine Bluff, with Confession, Mass at 5:30 (I believe this Mass is now in the Extraordinary Form), Adoration and Benediction, Chanted Vespers and 15 decades of the Holy Rosary.
On this evening, October 3rd, a woman who was not a usual part of our group and whom I'd earlier seen having some kind of furious and perhaps mentally disturbed argument with a homeless man came up and knelt down in front of the image of Our Lady. One of the graces of the Rosary Rally was that, besides the irreligious FFRF-associated protesters, there were frequently non Catholic passersby who joined us in their own way.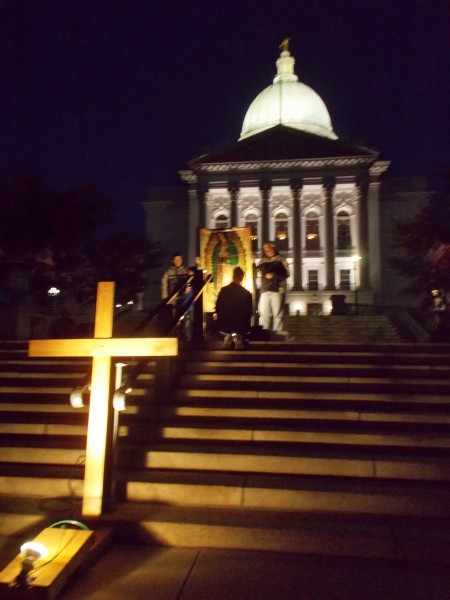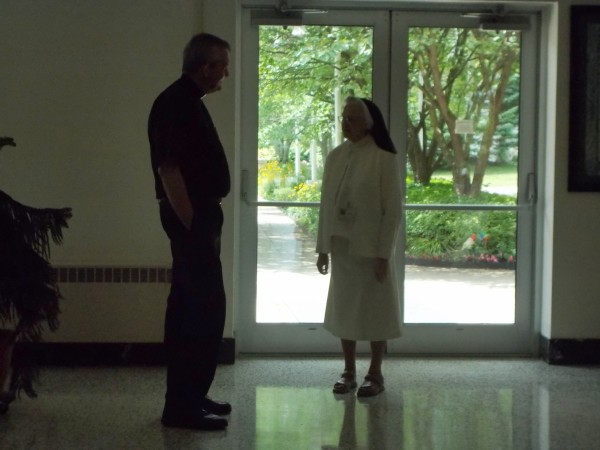 Here we have pictures of good things we saw at the Sinsinawa Dominican motherhouse, when the Cathedral Parish went on the Fr. Samuel Mazzuchelli pilgrimage. Above, Monsignor Kevin Holmes, Rector of the Cathedral Parish of Madison, with one of the Sisters who taught him when he was a boy! I have to say I love this, this picture touches me. I would feel profoundly satisfied if I was a Sister who taught a boy who grew up to be Monsignor Holmes. She was the only one we saw who wore a habit or veil. In their museum they had their old style habit, which is almost exactly like the habit worn by the Dominican Sister of Mary, Mother of the Eucharist who spoke at our second Stand Up for Religious Freedom rally (you can see a photo of her at that link). The latter order gets extraordinarily many excellent young vocations, whereas the extremely liberal Sinsinawas are in rapid decline.
Below is Paul Kachelmeier with the rather beautiful penitential chain Fr Samuel Mazzuchelli, holy pioneer Dominican priest and founder of the Sinsinawa Dominican Sisters, was discovered to be wearing about his waist, after his death. The Sisters used to like to bring the chain to the sick to have them hold it and pray for Fr Mazzuchelli's intercession. But the Sister giving us the tour said unhappily that those in charge had decided that it was too dangerous to the chain to drive it around to hospitals and wherever. On Monsignor's request it was taken out of its locked case so we could pass it around and pray.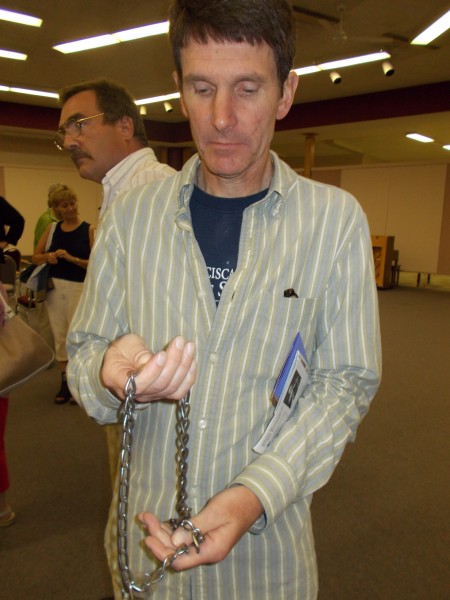 Oh, and this is irresistably cute, there was a series of shadow boxes of the life of Fr Mazzuchelli, that someone, presumably a Sister, made obviously many years ago (you can tell because not only were they unconflicted about the ad orientem altar, unlike more recent Sinsinawa Dominicans, they even took pains to put the tall skinny candles and proper number of altar cloths!). This was Fr Mazzuchelli making his religious profession: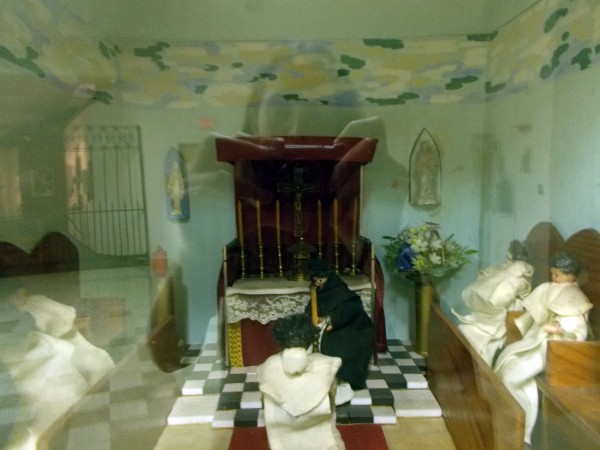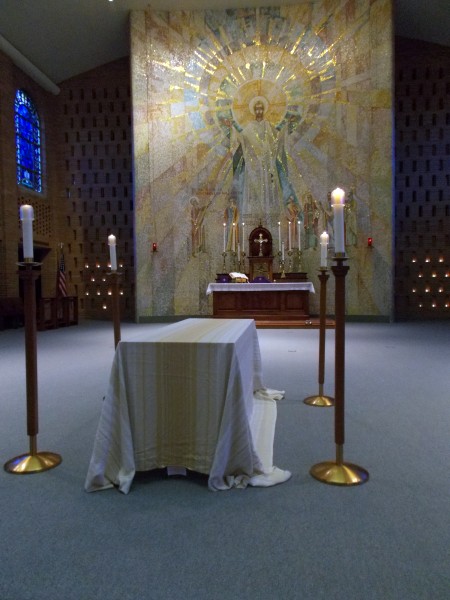 On All Souls Day, Fr Rocky Hoffman of Relevant Radio gave a talk hosted by the excellent men's group Knights of Divine Mercy (which all Madison Catholic men should check out) at the Bishop O'Connor Pastoral Center. His theme was "Our Holy Alliance: Praying with the Holy Souls and Saints" and though I'd say his talk was only loosely about that, he was delightful and interesting, an amazingly talented priest, and you can listen to it in full via the KDM audio archive. This was preceded by an All Souls Day Mass celebrated by Fr Heilman, which was complete with the catafalque you see above.  Do you notice anything missing? Yes, the table altar was removed, in order to use the new, old-style High Altar which Bishop Morlino had put in earlier this year! Blurry Fr Rocky: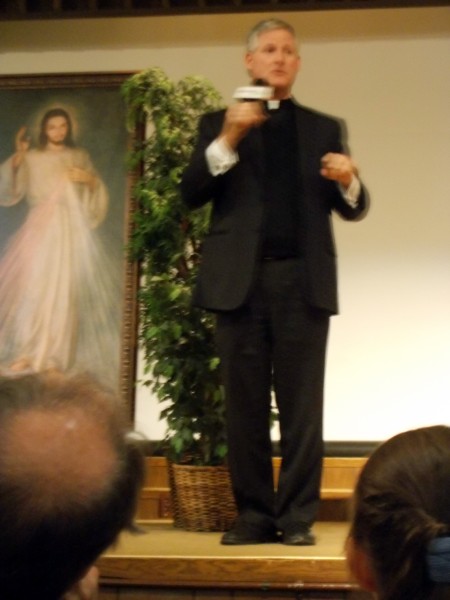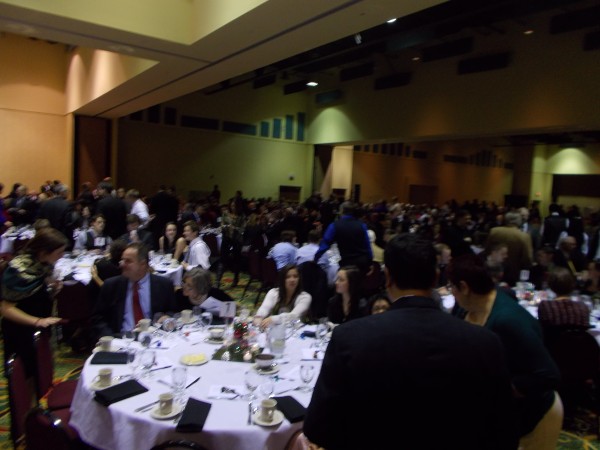 And I forgot and added this late: the St Ambrose Academy Benefit dinner, held this December at a big hotel ballroom. This was a huge party–something like 600 people. St Ambrose is the very well loved and fast-growing "classical education" Catholic school for grades 5-12, started just a few years ago by the initiative of a few homeschooling parents. St Ambrose has attracted a superior faculty of some of Madison's best, brightest and most faithful Catholics. It is currently located at St Thomas Aquinas Parish but has outgrown the facilities there and is seeking a new location.
What we heard from the students themselves was just amazing and spoke very strongly for this school. The picture below shows the skilled student Gregorian chant Schola led by Aristotle Esguerra. Fr Zuhlsdorf was at my table in the beginning and he knew some of what they were singing and was softly singing along. 🙂 We heard also some essays on Beauty and Sanctity by students, based on their class instruction from Bishop Morlino, who regularly teaches at St Ambrose, and had reason to be proud of these kids who learned very well from him. One highlight was a talk by St Ambrose Senior Taylor Balzer (which can be viewed online) who unenthusiastically entered as a freshman, complained and insisted her parents let her attend "normal" public school her sophomore year, then realized what she missed about St Ambrose: its family like atmosphere where she could be an individual, the challenging curriculum, and Catholic faith, saying the school helped her grow not only intellectually, but closer both to God and to her parents–and increasingly St Ambrose also now has the things like football and prom that she'd wanted from public school.  The superb St Ambrose website has quite a lot of other great video content from the dinner and beyond.
This school's outreach uniquely goes beyond just parents of the students. They host monthly "mission breakfasts" during the school year that anyone can attend to be in contact with what St Ambrose is doing (they request an RSVP). Due to demand from the considerable number of local Catholic adults who wish they'd gotten to go to St Ambrose when they were kids, there are also now interesting lectures for adult community members one evening a month from one of the St Ambrose faculty members. Get on their mailing list to stay updated.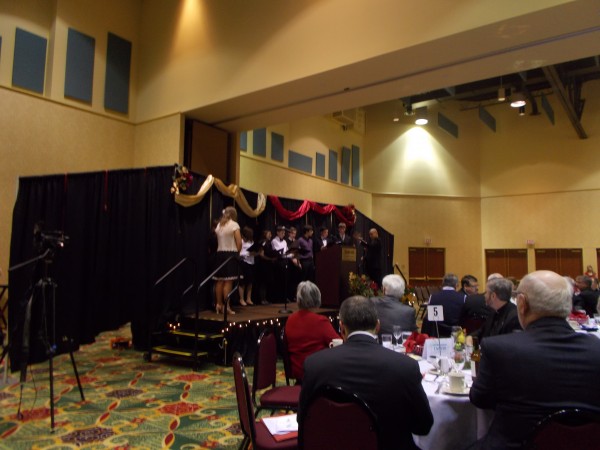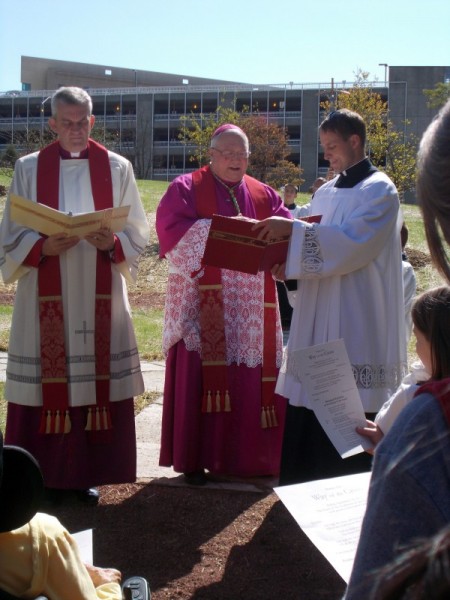 Besides being New Years Eve, today happens to be Bishop Morlino's birthday. Happy birthday, dear bishop! And an early happy and holy New Year to all!