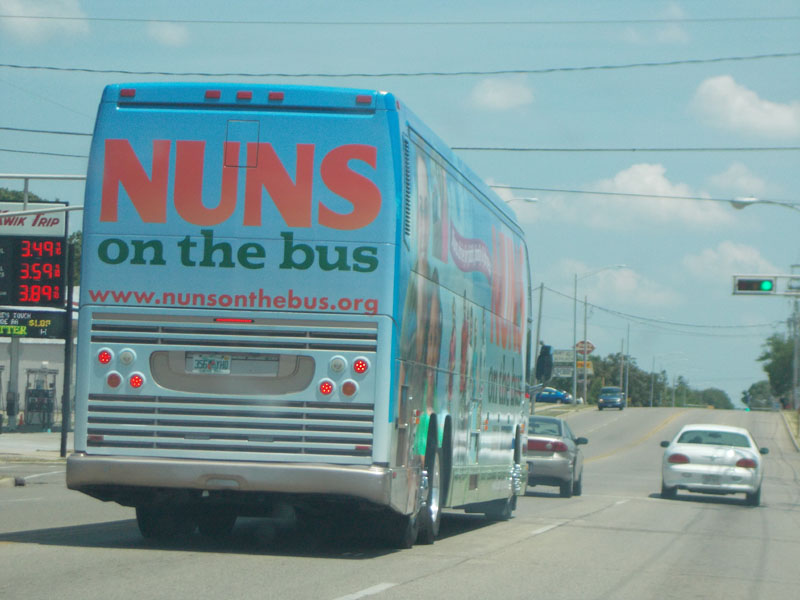 Recently the Congregation for the Doctrine of the Faith issued a long awaited doctrinal assessment of the Leadership Conference of Women Religious, an official Church organization consisting of the leaders of most (but not all) of the communities of active religious sisters in the United States. One point of concern was the association of the LCWR with a self-described progressive Catholic social justice political lobby group, NETWORK:
"On June 25, 2010, Bishop Blair presented further documentation on the content of the LCWR's Mentoring Leadership Manual and also on the organizations associated with the LCWR, namely Network and The Resource Center for Religious Institutes. The documentation reveals that, while there has been a great deal of work on the part of LCWR promoting issues of social justice in harmony with the Church's social doctrine, it is silent on the right to life from conception to natural death, a question that is part of the lively public debate about abortion and euthanasia in the United States. Further, issues of crucial importance to the life of Church and society, such as the Church's Biblical view of family life and human sexuality, are not part of the LCWR agenda in a way that promotes Church teaching. Moreover, occasional public statements by the LCWR that disagree with or challenge positions taken by the Bishops, who are the Church's authentic teachers of faith and morals, are not compatible with its purpose." While here directed directly toward the LCWR, these concerns are also applicable to NETWORK Lobby–presumably why it is mentioned in the same paragraph.
The CDF was concerned enough that one of the five action mandates in the doctrinal assessment was "To review LCWR links with affiliated organizations, e.g. Network and Resource Center for Religious Life."
Well, recently NETWORK announced that it was going to be having a 9-state tour entitled Nuns on the Bus, its stated purpose opposition to Rep. Paul Ryan's federal budget plan, as bad for the poor. The tour was also described in the New York Times as thumbing their noses at the CDF and the US Bishops' Fortnight for Freedom to fast and pray for religious freedom.
Day 2 of the Nuns on the Bus tour would visit the Sinsinawa Dominican Sisters and then Paul Ryan's office in Janesville, Wisconsin.  That was yesterday, and I and my friend Jeanne Breunig were there.
The Sinsinawa Dominicans are a teaching order that thrived in the 19th and early 20th centuries, and has precipitously declined in numbers following excessive "modernization." Many people here in Madison have positive memories of them from years back. One gentleman in Madison, when he learned a couple days ago that the Nuns on the Bus would be stopping at the Sinsinawa Dominicans' motherhouse, wrote me this:
To say the very very least I am shocked and disheartened. The nuns who taught me in my formative years at Edgewood HS (grad 58) did not have this ideology nor were they involved in any kind of politics unless it happened to deal with preserving the private drive along Lake Wingra from public takeover by the city. They were teachers and not political activists.

They still wore habits in those days.  Vatican II was looming.  All my teachers for all 4 years were Sinsinawa Dominican nuns except 2 – Band and Civics.  Do they still teach Civics?  Every one of them were well steeped in Church Doctrine and taught it at every opportunity – not just in Religion class.  I'm not sure any of them are still alive anymore, but I'm sure many of them are turning over and over in their eternal resting places.

I did have an encounter with a lay person teaching an RCIA class I attended, although I'm a "cradle Catholic", and asked that person if that person was teaching religion at Edgewood.  That person said no.  That person was teaching "social justice" .  That was several years ago and I've kind of wondered what's been going on at my alma mater every since.

I receive many solicitations for money from Edgewood along with the usual alumni news letter.  For some reason I read, very carefully, one of the newsletters I received about a year ago .  I felt very sad since in all 8 pages there was not one single word or words "Jesus" or "Jesus Christ" in the entire newsletter.

Deceased or still alive, I don't think Sister Marie Christine would approve of Nuns on the Bus.  I doubt, if I were of HS age today, my parents would send me to Edgewood.

While writing this I decided to go to

http://www.sinsinawa.org/

 and browse the website.  I think my concern is way too late.  The Holy Father's "heavy hand" may have to do.
We were delayed a little in the morning and arrived at Sinsinawa Mound at about 11:45 to attend the scheduled 11:30 "Friend Raiser" which was listed as open to the public but not the press. The bus wasn't there, though. I went inside the center and a reception lady indeed had a big "Nuns on the Bus" sticker on her shirt. I said I was there for the NETWORK event, the Nuns on the Bus.
"Oh," she said, "they got here early, and they left about a quarter of an hour ago, you've missed them." I asked if there had been many people, and she said they had mostly met with some of the sisters and staff. "It was just kind of a spur of the moment thing," she said. I said they must have moved on to their next stop, which she acknowledged was Janesville, though she was not sure where. "Paul Ryan's office," I said. She asked where I was from and I told her Madison, which surprised her, that being a bit of a drive. The Sinsinawa Dominicans' Facebook page supplied a photo of the bus at the Mound:
There is also a video of Sr Simone Campbell's opening remarks at Sinsinawa. "I'm not used to this celebrity kind of stuff," she said. She also had some details on the genesis of the trip: "The whole bus trip is a gift of the Spirit. The only inspiration I had was to ask for help. And we asked for help in DC, and our colleagues, all the big players, they came together and helped us brainstorm this. None of us remember exactly who thought of a bus trip in this brainstorm session, but it just caught on. And then somebody has done a bus trip, so they knew you can wrap a bus. You know, if it had been left to us, we would have cut out felt letters and stuck them on cardboard and we would have tied it onto a Prius, and driven around, and thought we had done it. No, no, no! So they said no, we wrap a big bus, and then I think, we have forty-five seats, that's what I thought. Oh good, it's on now, and I can call all my friends to get on. And they told me, Simone, you don't have forty-five seats, you got seven, that's all you control. Seven seats? So then I thought it was a little bus; they say no…" (end of video. Tried my best for an accurate transcription.)
Hmm. The gift of the Spirit, or maybe of the big players in DC? Does this explain the recent "tweet" sent by Network: "One bus is called "#NunsOnTheBus", the other "Romney's Every Town Counts" tour. Which one are you on board with? http://exm.nr/P0b9ul" Surely the players have not sent dissenting nuns on the road as difficult-to-attack Obama surrogates?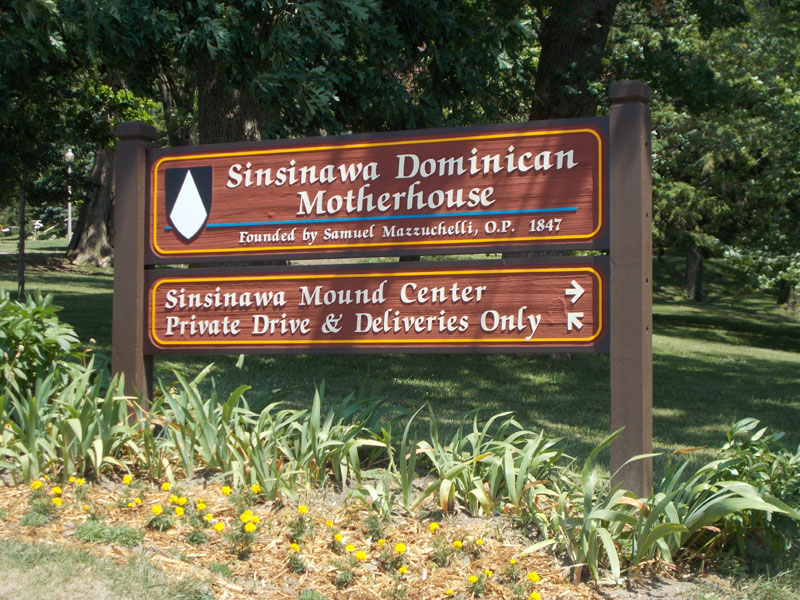 Anyway we got back on the road toward Janesville. I took this picture of the sign along the road, to show we were there. We stopped along the way and dropped off Capitol Rosary Rally fliers (kickoff event for the Fortnight for Freedom, 7pm this Thursday at the State Street steps of the Capitol in Madison, which we learned later in the day yesterday that Bishop Morlino will be attending), at beautiful St Patrick's church in Benton, which was actually built by Fr Samuel Mazzuchelli, founder of the Sinsinawa Dominican Sisters of the Most Holy Rosary, who are still part of the staff there. We are sorry we forgot to drop some off at the Sinsinawa Mound Center itself!!
We were approaching Janesville when we saw them! Jeanne happens to be the aunt of Matt of Badger Catholic blog, and she excitedly called and left him a voicemail that we were right behind the Nuns on the Bus!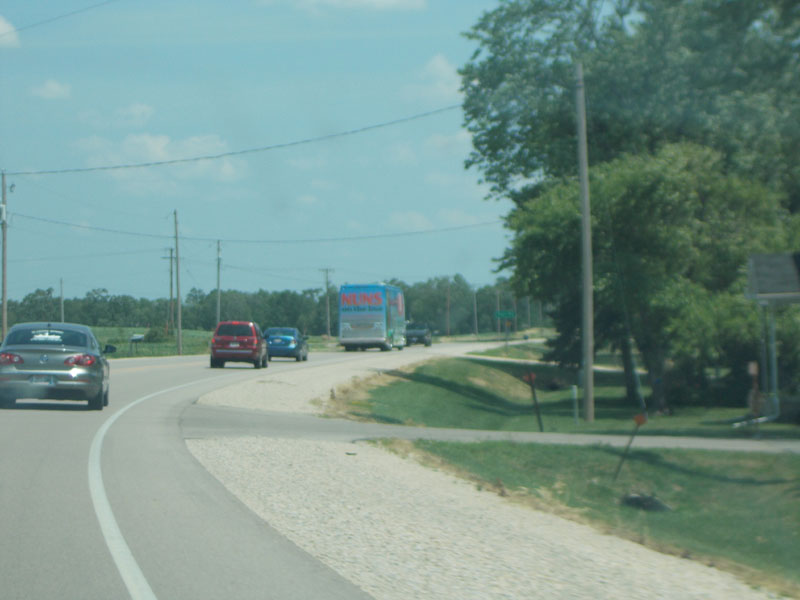 We let them show us the way to Congressman Ryan's office. There were already sign-carrying supporters there. Beforehand, I'd noticed a Twitter "tweet" to the Nuns on the Bus  from the "Solidarity Sign Brigade" in Madison ("recall Walker" protesters from the Capitol) saying they would be there. They were certainly there, and some of them even had union shirts or signs with a "recall Walker" message. One man, an atheist, responded to Jeanne's message about freedom of religion, "no, freedom FROM religion!" There was also a man affiliated with "Holy Wisdom Monastery" (see information from the Diocese of Madison about them), we knew each other from a long conversation recently at the Farmer's Market, where they were collecting signatures for the Nun Justice Project petition "in support of the nuns" against the CDF doctrinal assessment. He wore a Dignity USA shirt, and I saw at least one other person with a Dignity sign. Holy Wisdom, near Madison, voluntarily "went non canonical", ie gave up its status as a Catholic monastery, and is now a place where fallen-away Catholics and protestants attend a lay-led "eucharistic" service on Sunday mornings. Here is the crowd in front of Congressman Ryan's Constituent Services Center: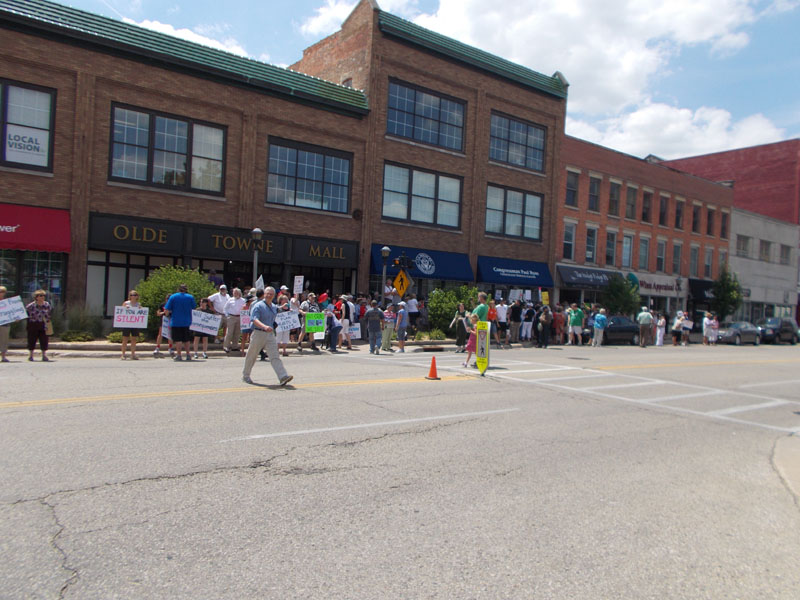 Finally the bus pulled around and the sisters disembarked! Jeanne was there too, with her religious freedom signs.
The crowd was very enthusiastic, and pressed into Congressman Ryan's center, some going up on a balcony, and sang and chanted. Since they seemed to know the songs (which I didn't recognize or catch the words to) and sing harmoniously, I had to wonder if the singing contingent was from Holy Wisdom or another like minded religious group. I also spotted a couple distinctively-garbed ladies of the "Raging Grannies" progressive protest song group, but the songs in Ryan's office were not their type of songs. While Sr. Simone was in the office, Jeanne, who had as much right to be there as anyone else, held her signs up in the office doorway, displeasing some people with cameras. Sister Rosalia Bauer, habit-less like the NETWORK sisters but totally pro-life (Jeanne knows her) and disagreeing with them, stood up on a coffee table and was swarmed by reporters wanting to talk to her. "You disagree with what they're doing?" asked a Milwaukee TV reporter. "I certainly do, and I'm embarrassed that my fellow religious sisters are doing this," she replied.
After that, Sr. Simone came back across the street where a Nuns on the Bus podium had been set out. She gave a quite brief press conference. I asked, because I really couldn't figure out what she meant, what she meant when she said recently that she feels like she would get a rash if she described her social justice work as being pro-life. She didn't comment on that.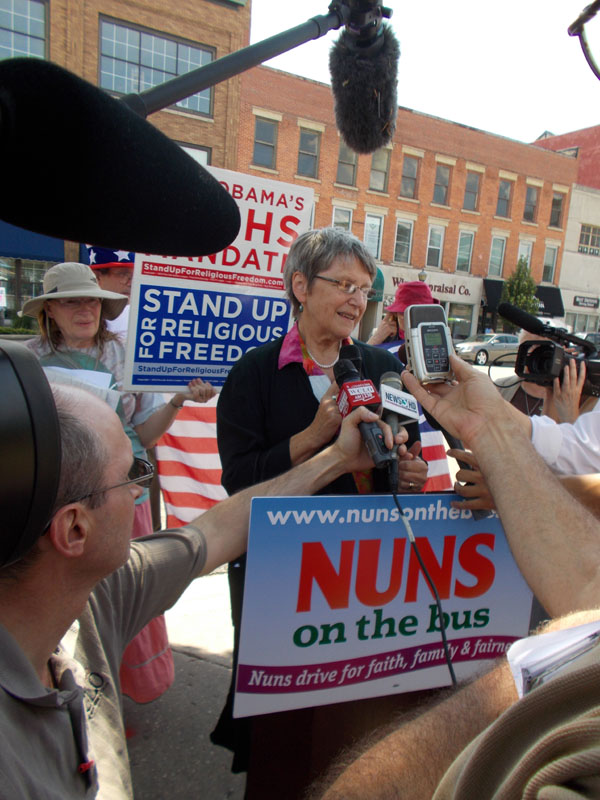 Their idea was that the awning for Paul Ryan's office would be in the background, but the religious freedom signs were not a welcome message for the Nuns on the Bus crew. They sacrificed their photo op in front of the Paul Ryan office, holding up a peace flag: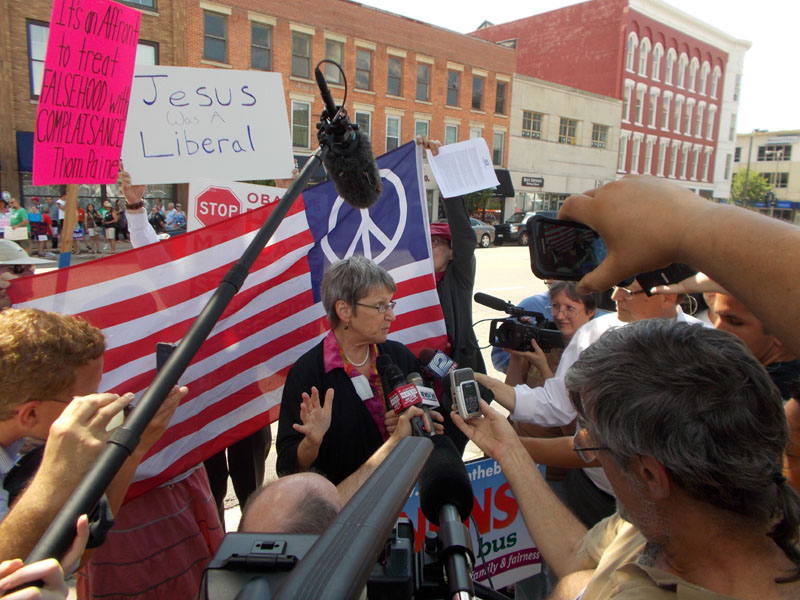 On her way back to the bus, I asked Sr Simone whether she supported the Fortnight for Freedom. She said something about it being complicated. I asked if she opposed the HHS contraceptive mandate. It's complicated, she said. NETWORK supported passage of the Affordable Care act, and after the Obama administration made very fake "conscience accommodations" this February, the group stated: "NETWORK applauds today's announcement about the administration's accommodation of religious conscience objections to the provision of insurance coverage coverage for contraceptives to women at no cost to them." As far as I know NETWORK has not expressed any concern since for religious freedom issues the legislation raises.
After the crowd of supporters was diverted toward a nearby park where the three other sisters (they were all elderly–older than Sr Simone) on the bus met with them, Sr Simone came back in front of Ryan's office to be interviewed by CNN. That's John Nichols, columnist for Madison's Capitol Times in the light blue shirt with his back to me, in the photo below. We had a conversation in which I told him how I differed with the Nuns on the bus, about our June 8th religious freedom rally in Madison with 300 people present. Although I remember John Nichols from years ago when I myself was a liberal/progressive and saw him speak at Fighting Bob Fest, and know he is not pro life, he commented that he agrees that being totally pro life is an essential Catholic belief. Then he said our conversation gave him an idea, which I didn't assume was a good idea. The column he just posted isn't about the Nuns on the Bus, whom he'd devoted a column to on Sunday portraying them as the counterpoint to Romney's bus tour (see NETWORK's "tweet" quoted above), rather, it's a ridiculous polemic against religious freedom as a fear mongering plot by Mitt Romney! I pay very little attention to political news, so I have very little idea what Mitt Romney is up to, and am not aware of my desire for religious freedom having anything to do with him.
I struck up that conversation through my own foolishness. I was also interviewed on camera for TV news (I am not sure what station), and by two or three other journalists. To each I emphasized particularly that faithful Catholics could believe either way about Ryan's budget, but for us sanctity of life from conception to natural death and religious freedom are non negotiable issues.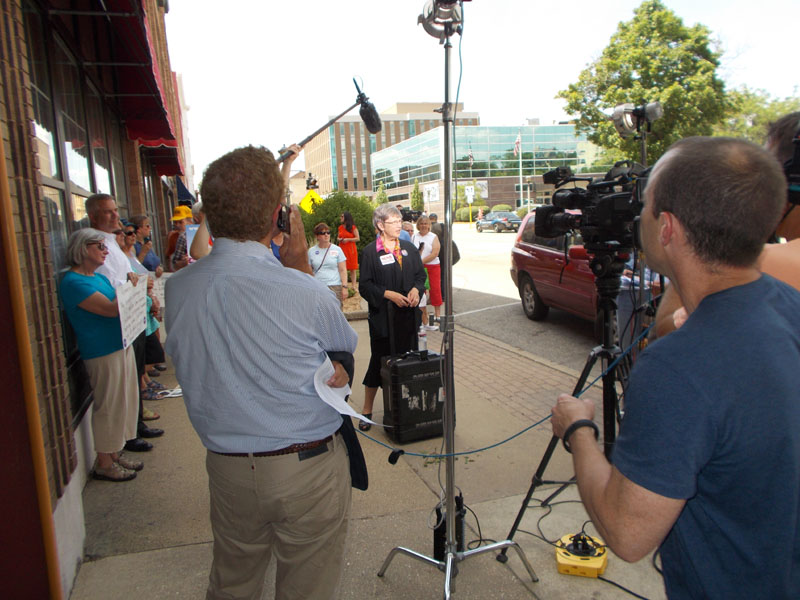 Finally, I was interviewed on camera for the PBS show Bill Moyers Journal, for which a reporter and his assistant are traveling along with the bus, but apparently in a separate vehicle… there is quite an interesting story that I want to tell about my connection with Bill Moyers and how that has to do with this, but I am going to make this post this so people can read about it, then add that story.
[Update: Bishop Morlino was on EWTN's The World Over and commented on the Nuns on the Bus. His comments are in keeping with previous comments he had made on the same program in regards to Ryan, whom he said then was a "very responsible lay Catholic . . . who makes his judgment very much in accord with all the teachings of the Church." I meant to include that in the article and forgot. I am including the transcript that was made by Matt of Badger Catholic:]
Congressman Ryan has made his prudential judgment about how best to serve the long term needs of the poor. He has done that in accord with Catholic principles. I don't have to approve his decision, or his budget or anything else. What I do approve of is that he is a responsible Catholic layman who understands his mission and carries it out very responsibly. I feel very strongly about that. The details of his solution are not mine to approve or disapprove. That's not my field. So, I would think that the religious sisters, though, should concentrate on giving that witness of holiness of all of the wonderful works that they do rather than busing around for political issues. Because, when anything happens like that, if I were to come out in a very political way, I would probably win more followers for the opposition. And, there are many Catholics who feel that very way about the sisters. They really don't like this. They feel that, their expectation from the sisters is really not this kind of leadership.