Bishop Morlino joined what looked to me about 500 Madison Catholics last night for the first in a series of Capitol Rosary Rallies. A beautiful evening. The bishop spoke very briefly, explaining what we were doing was entirely not political. Fr Isaac Mary Relyea then led us in 15 decades of the Rosary, the traditional Joyful, Sorrowful, and Glorious Mysteries, offered for life, family, and the conversion of the world. The rosary was followed by the Prayer for the Protection of Religious Freedom, led by Fr Rick Heilman, which may be found on the USCCB's Fortnight For Freedom main page.
I breathed a sigh of relief when I found my camera battery was dead, so I could just concentrate on prayer. Syte Reitz has written a blog post about the rally with her photos and an audio download of the rally. Her son Tom was also there taking pictures which are always lovely!
The Wisconsin Reporter has an interesting article, from a political angle in spite of Bishop Morlino's introductory words and the fact we merely prayed the rosary and a prayer for religious freedom, and there were really no speeches.
It was a familiar scene in Madison Thursday night.

Hundreds of protesters gathered on the steps at the Capitol, some wearing T-shirts with a clenched fist.

But this time, enclosed in the clenched fists were rosary beads.

It wasn't a recall rally, but a demonstration with a conservative feel – led by Catholics who believe religious liberty is under attack.

….

"We came here to pray hard that the Lord will continue to help us to defend our own religious freedom and our freedom of conscience when those are somehow endangered," said [Bishop] Morlino.
….
Constance Nielson, dean of faculty at St. Ambrose Academy in Madison takes issue with the characterization [that Catholics struggle to reconcile sanctity of life and social justice], arguing the dignity of life and social justice are a natural fit.

"I don't care for that, because I think the right to life is social justice," she said. "You're often forced one way or another as a Catholic to concede something. There's a tendency for people to separate poverty, education, immigration, and then put respect for life all by itself. I think it's all one list and you wrap your arms around it."
Oh, and there was a pro-life Balloon Rosary released at the end of the rally, which floated gracefully past the Capitol dome!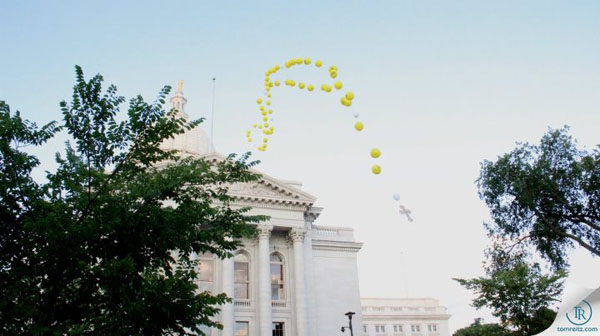 I LOVED it! And these Rosary Rallies will be weekly, every Thursday at 7pm right at the Capitol, through November 1st! Please join us! And take a look at the whole schedule of Diocesan Fortnight for Freedom events.