Yesterday's Supreme Court ruling upholding the Affordable Care Act surprised me–and upset me a good deal. The bishops immediately called (again) for Congress to fix the problems with the law that infringe our religious liberty, though making clear they had never joined in "efforts to repeal the law in its entirety". But neither did they think it was morally necessary to have this particular approach to providing health care; Archbishop Chaput explained in an interview that "Health is a basic human right; we have a right to be healthy. There's no declaration on the part of the Church that that has to be accomplished through government intervention."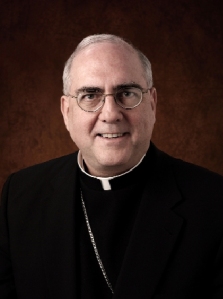 Archbishop Naumann of Kansas City, the bishop who had the courage to publicly direct Kathleen Sebelius to abstain from Holy Communion, gave a good interview too, to Catholic World Report, "I think, perhaps, in recent years more and more people—myself included—have come to appreciate how important [the principle of subsidiarity] is. And part of that comes from our experience. I think one of the things counseled against in various Church is what Pope Benedict XVI has sometimes referred to as 'statism,' that the state becomes the solution for everything, whereas in the past the family and other mediating institutions were really the vehicles for providing health-care, food, and shelter for the poor. All of these things become more amalgamated, in our case, into the federal government, and that isn't good for a couple of reasons. One, because there is a big bureaucracy and it is very inefficient. But it also gives too much power to a central authority, and that power is vulnerable to being abused. And I think we are now seeing an example of that with this health-care reform, by their putting into the implementation of that a real attack on conscience rights and on religious liberty, and actually making it a vehicle to redefine what it means to be "religious" in this country, and what qualifies for religious exemptions."
Abp Naumann chooses the word "statism" rather than daring to mention socialism, which is so plentifully condemned by the popes. But this wording is in keeping with what Benedict XVI wrote about, basically, socialism, in his 2005 encyclical Deus Caritas Est: "The State which would provide everything, absorbing everything into itself, would ultimately become a mere bureaucracy incapable of guaranteeing the very thing which the suffering person – every person – needs: namely, loving personal concern. We do not need a State which regulates and controls everything, but a State which, in accordance with the principle of subsidiarity, generously acknowledges and supports initiatives arising from the different social forces and combines spontaneity with closeness to those in need. … In the end, the claim that just social structures would make works of charity superfluous masks a materialist conception of man: the mistaken notion that man can live 'by bread alone' (Mt 4:4; cf. Dt 8:3) – a conviction that demeans man and ultimately disregards all that is specifically human." This strikes me very much also as pointing to the problem with the US Society of St Vincent de Paul, which has always been focused on direct service to the poor, now pushing its members into progressive-type activism to "end poverty through systemic change," as I wrote in May.
But in spite of, for instance,
health clinics run by religious sisters
being redefined as not-religious, wouldn't you know that Sr. Simone, head of the NETWORK political lobby "nuns on the bus",
said
: "We at NETWORK are thrilled by the Supreme Court decision regarding the Affordable Care Act." Perversely, she claims to believe the Act, which among other things will fund direct abortions, murders, "is pro-life and we must do everything possible to preserve and expand its reach."
If the Supreme Court had overturned the law, that would have been one sure way to moot the offense against our religious liberty. But the specific issue of the law's impact on free exercise of religion hasn't actually been considered by the courts at yet. It will be:
"It seems to me the (Obama) administration has won one legal challenge and there are 23 others waiting in the wings," said Mark Rienzi, senior counsel at the Becket Fund for Religious Liberty and a professor of constitutional law at The Catholic University of America's Columbus School of Law.

The Becket Fund represents Belmont Abbey College in North Carolina, Colorado Christian University in Denver, Eternal Word Television Network in Birmingham, Ala., and Ave Maria University in Florida in lawsuits challenging the Department of Health and Human Services' mandate requiring most religious employers to provide contraceptives and sterilization to their employees free of charge.

Another 12 lawsuits involving 43 Catholic dioceses, schools, hospitals, social service agencies and other institutions were filed simultaneously in May; several private employers, Catholic organizations such as Priests for Life and Legatus and some non-Catholic colleges also are challenging the mandate in court.

The June 28 decision dealt with the individual mandate — the requirement that individuals buy health insurance or pay a penalty to the Internal Revenue Service — but the lawsuits against the HHS mandate relate to the law's employer mandate, which punishes employers who do not provide health insurance to their employees.

"The court's opinion today did not decide the issues in our cases," said Hannah Smith, another Becket Fund senior counsel. "We are challenging the HHS mandate on religious liberty grounds which are not part of today's decision. We will move forward seeking vindication of our client's First Amendment rights."
By the way, I have not been diligent about blog posting but have meant to share this:
Without Freedom No One's Got a Prayer – Kathryn Jean Lopez – National Review Online.
This is my favorite article related to the "Nuns on the Bus" that I have come across–not least because she is truly kind to the bus sisters and finds things to like, while presenting a different perspective and, as I did to Sr Simone, raising the matter of religious freedom which Sr Simone seemed to want to evade. Kathryn Jean Lopez also draws attention to Bishop Morlino's words that Rep. Paul Ryan is a very responsible Catholic layman who carries out his mission very much in accord with Catholic principles. She also points to Fr Robert Sirico's Acton Institute as a  group with an effective approach to helping people out of poverty that isn't heavily focused on government aid like Network Lobby, but develops the potential of the people themselves, and I found that helpful to more fully understand the credibility of Ryan's contention that he also is guided by Catholic social teaching.
Father Robert Sirico and his Michigan-based Acton Institute are involved in a project called PovertyCure, which is an important part of this conversation. The project asks if we have been raising "the wrong questions" about the causes of poverty and how to address them. Its goal is "advancing entrepreneurial solutions to poverty." "PovertyCure is different because it places the focus on the human person, created in the image of God, with dignity and creative capacity as the source of wealth," Father Sirico tells me. "The dominant model among both secular and religious agencies has been one of aid or charity. PovertyCure shifts the focus to unleashing the entrepreneurial capacity that already fills the developing world. Long-term sustainable development does not come from aid or charity but from helping to foster the conditions where people create wealth and prosperity for themselves, their families, and their communities."

The PovertyCure website gives you a sense of the project's approach, which is to do what every good teacher does: unleash potential. Rudy Carrasco, a Christian minister, explains: "Everybody has capacity, talent, and ability. Everybody has responsibility. Everybody has stewardship responsibility. I don't care what dirt hovel you're living in, in Brazil or Mexico City or Manila. You have a responsibility to be a steward of the resources under your control because you have a heavenly Father who has put great things inside of you, that [are] waiting to be called out and developed and extracted."

I'd like to think that the nuns on the bus would be encouraged by these sentiments.
As Bishop Naumann said in that interview I quoted from above: "[P]eople—who have good intentions and motivations—have too often looked to massive government programs to help the poor, yet we have a history now of almost 50 years with these programs and we don't have fewer poor and we don't have more people empowered. But we do have a weaker family life and weaker public morality. And so we have to look at it and ask, "Are these really the best ways to go about addressing the problem?""