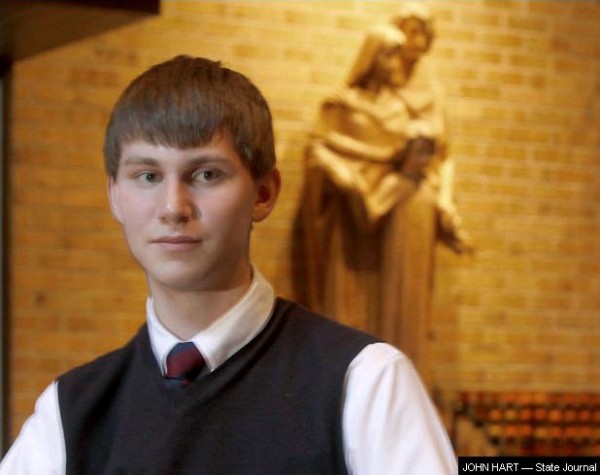 From the WI State Journal Sunday:
He remembers praying the rosary with his family as a middle-school student outside the Planned Parenthood clinic on Madison's East Side, which provides abortions. He figures he's been back 30 or so times, sometimes by himself, other times with friends.

"I pray not only that the institution would close down but also for the women who've been affected," he said. "It saddens my heart to be there, but it's great to be able to go there and witness and say, 'There's another way.'"

Wanta co-leads his school's [St Ambrose Academy!] Guardians for Life group, whose members hold diaper drives and volunteer at the Sharing Center, a program run through Pregnancy Helpline of Madison. He plans to attend seminary this fall, with hopes of becoming a Catholic priest.
This excerpt is from one of several little profiles in a "Roe v Wade anniversary" series on youth who are either "for abortion rights" or "anti abortion" as seems to be the WSJ's terminology for being pro abortion or pro life. I know the Wanta family a little bit and was so pleased Michael wants to be a priest. think we are up to 35 seminarians? Phenomenal. Pray for them. These most recent ones have only just applied, though I'd say Michael is a more than promising candidate.
Want to meet some of our other Seminarians?
Where are our future Sisters, though? Certainly there are a few, and every one I've known personally with a religious vocation has gone to quite an orthodox and traditional kind of community–but someplace else, not here in our diocese. The fact seems to be that the Sinsinawa Dominicans were our biggest group of local Sisters and they've gone off a cliff, and that situation is not going to turn around. There are the Schoenstatt Sisters of Mary, but they are actually a Secular Institute and not religious Sisters.  And there are some other little groups of religious Sisters, anyone know more about these? Please let's keep a dream alive in the heart for more Sisters again here, some day, even if it might not be soon.