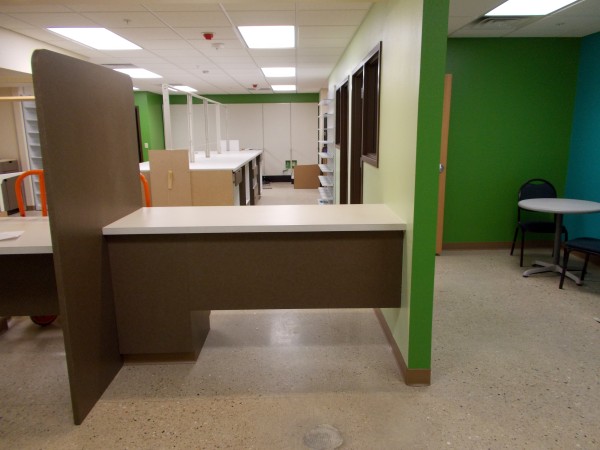 This has been in the works for a while, and I was surprised how big and nice it is: in the basement of the Society of St Vincent de Paul Service Center on Fish Hatchery Road, there will soon be a new pharmacy to serve the poor for free. The Society currently serves about 10 clients per day with prescription vouchers that clients have fulfilled at commercial pharmacies. Now, the Society will be able to fill prescriptions at lower cost and better service with its own pharmacy and part time pharmacist. They tried to plan a facility that will be adequate for their growth for at least 5 years. It will stock the most needed medications, but not any kind of contraceptives. Below on the left you can see a fridge for medications that need refrigeration.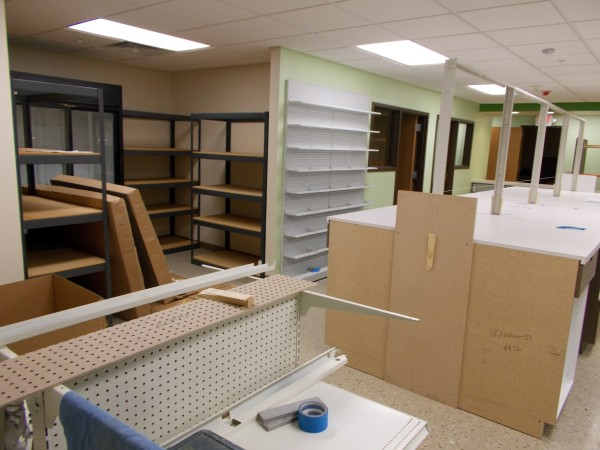 That's not the only health initiative on the site. Below you see on the left the very distinctive building for our storage program for the homeless, Vinnie's Lockers. In the background on the right is the Meriter "health hut" with a part time nurse , Carlos,who helps the poor, especially the homeless. I believe he is able to prescribe certain kinds of medications.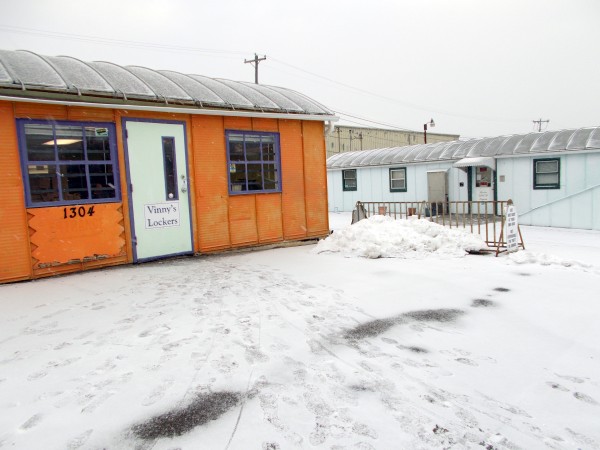 My Wednesday time with the homeless is one of the highlights of my week. Today this was who made my day: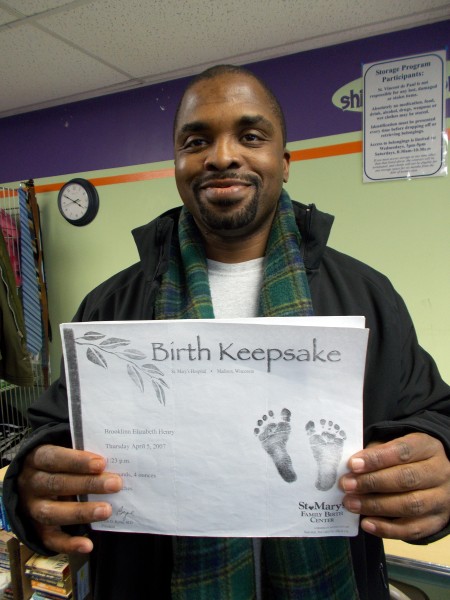 "Adam" had stored belongings in our program not long after it had begun, before heading to prison about 3 years ago. When he came back to us today, he presented himself as a new client and was not at all expecting us to still have his things.  We remembered him. Indeed, after he didn't come back within a year, we long ago had to dispose of clothing he'd stored with us. We couldn't even find his main record, but another record indicated we should still have something of his, finally we found a folder misfiled with some papers (we never throw out people's papers that seem important) including his birth certificate, very helpful to have back, but also including, to his real joy, sonogram pictures and a birth record of his daughter. He wasn't expecting to ever see those again, and he wasn't able to visit his daughter now. It was the most touching thing how precious this was to him and how simply delighted and grateful he was. He didn't care at all that we didn't still have his clothes.
The stories of brokenness we hear at Vinnie's Lockers are also often very much stories of love. We meet more than a few dads who love their children and want to be part of their lives, but for some reason it's not possible, or very limited.
Please don't forget to pray for the homeless.
Jesus, please help the homeless and the poor in their needs, inspire Your servants to serve them, and give to those in need the grace to be detached from whatever would keep them from benefiting from the help that your Providence supplies. Your Father is close to the children whose fathers are absent, and your own Mother you have given to all children who need a mother who will love them rightly and pray for them. Jesus, send your Holy Spirit to be with husbands and wives, fathers and mothers and help them to be the people they need to be for one another and their children, even when these families cannot now be perfectly united. Strengthen our faith and hope in You who are Charity, for you made us to find a home in You, forever and ever. Amen.