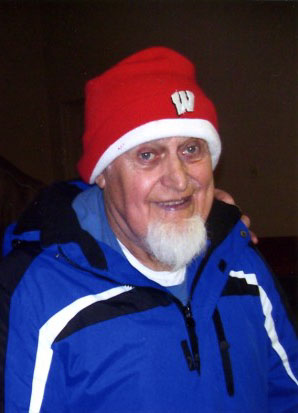 Not one of the students, but Eugene Kuczynski, an elderly Polish man who used to be a familiar sight at local Catholic churches at daily Mass, in the adoration chapel praying the Rosary, etc. When I first returned to the Church about 7 years ago, I met Gene (Gino as he always referred to himself), who was homeless and whose possessions consisted of one change of clothes, a sport coat for Sundays, and two bowling balls. He was sleeping in the back garden of St Paul's, and my friend Leah Stader (now Leah Baute, she married successful Catholic musician Matthew Baute  and has moved out of town, though she told me very recently she may be moving back), who had only recently left the novitiate of Mother Teresa's religious order the Missionaries of Charity, was trying to assist to get into the Society of St Vincent de Paul's Port St Vincent men's transitional housing program. He wound up not staying there long, it just wasn't what he wanted, and he was in and out of one or two other apartment situations subsequently. Gene had some kind of acquired cognitive problem and was confusing to listen, to but I found him very sweet and friendly with a big heart and continual desire to help others and fix social problems, even while his ability to do so effectively seemed limited. He described the little family farm he grew up on in Poland and the animals they had, as well as some profoundly difficult experiences and losses in life.
Gene received Social Security, but was in and out of homelessness. He was living in his great big old Oldsmobile (I remember him driving it through Library Mall one time!) when he met some people in a McDonald's whom God moved to take him into their home.  A recent, touching WI State Journal front page article described this random meeting, the generosity of Gene's new friends Mike and Kathy Mayer, and the good outcome for all. Go read it!
There is an obituary for Eugene here, a most affectionate one: "Just before 11 a.m. on Monday, Nov. 19, 2012, two companies of angels, escorted by a royal detachment of flaming horses and chariots of fire, transported our beloved brother, Eugene, to the gates of the heavenly kingdom of Almighty God. There, befitting his stature as a king and priest of the Most High, Uncle Eugene, received an abundant entry into the glorious presence of our great God and Savior, the Lord Jesus Christ, whose name is blessed forever!" The Mayers arranged a funeral for Gene at a local Protestant church they attend, but Gene himself was most definitely a devout Catholic, a rosary-praying long-ago former altar boy who still said "laus tibi, Christe" after the Gospel.

Soon after I read the State Journal article I approached Fr Eric Nielsen, pastor of St Paul's University Catholic Center, who warmly and immediately agreed to offer a funeral Mass for "Gino", whom he'd known. That's tomorrow, Dec 20th at the regular 5pm daily Mass time. Some other members of the Holy Redeemer Schola Cantorum are going to join me, with the most kind assistance of James Carrano, to try to provide some Gregorian chant, which will be mainly from the older form of the Mass from the Dead–since that's what the Schola has practiced. It's all just what seems right.
The last time I saw Gene was some time in early 2012, on the bus on the near west side, and he must have been ill with the lymphoma that took his life, but he had a great appearance of joy. I was always glad to see him and try to find out how he was doing, on that occasion he was very happy about "Leann" (Leah Baute) having had her baby, and I said yes I'd seen some pictures by email, and so glad he was in touch with Leah (whom he just adored)! A man whom in retrospect must have been Mike Mayer said "you know Leah?" I said "oh yeah!" I didn't know Gene was living with Mike, but I am so glad the last time I saw him he had an appearance of well being and joy and I think clearly that's thanks to the Mayers' effective help.
Join us if you can for the Holy Sacrifice of the Mass offered for Gene's soul tomorrow.