At my Vinnie's Lockers (Society of St Vincent de Paul) volunteer job serving the homeless, our longtime friend and client Dave Peters brought me a Christmas card. I loved it, and asked his permission to share it on my blog. The poem pasted in is one he wrote, and sent in to the International Library of Poetry, which published it.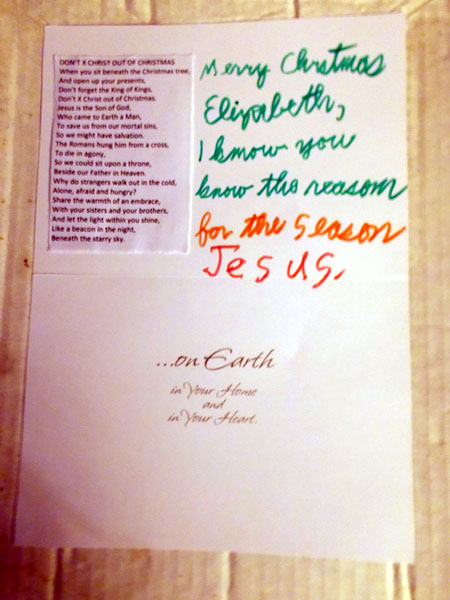 DON'T X CHRIST OUT OF CHRISTMAS

When you sit beneath the Christmas tree,
And open up your presents,
Don't forget the King of Kings,
Don't X Christ out of Christmas.
Jesus is the Son of God,
Who came to Earth a Man,
To save us from our mortal sins,
So that we might have salvation.
The Romans hung him from a cross,
To die in agony,
So we could sit upon a throne,
Beside our Father in heaven.
Why do strangers walk out in the cold,
Alone, afraid and hungry?
Share the warmth of an embrace,
With your sisters and your brothers,
And let the light within you shine,
Like a beacon in the night,
Beneath the starry sky.
He included also this clipping of one of his letters to the editor, from The Isthmus weekly. He points out that last year, 3 people he knew were found frozen to death. He mentioned to me in particular Billy Briggs. Within the last month or so, Dave's encountered about 8 people sleeping out in the vicinity of Capitol Square, either unwilling or unable to be accepted into the shelter, but totally unequipped for a night outdoors. I asked him if it would help if someone went around with some blankets. He said yes. Among the various reasons (besides rationing their 2 month limit at the shelter) why some opt for outdoors: bedbugs.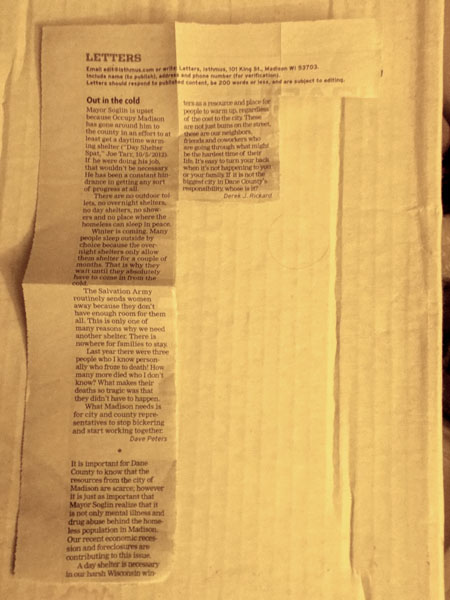 Dave was one of the leaders of the troubled (by his own account) "Occupy Madison" homeless camp, an intelligent guy who is a very active advocate for his fellow homeless who attends countless meetings of government and community organizations. I don't pretend to know the best solutions, but I am convinced that camping out is very problematic, and more overnight shelter and more skilled social work help are parts of the solution. Here's Dave is speaking to a City Council meeting this past April (photo from the Daily Cardinal):