Do you remember Ruth Kolpack, the "Call to Action" dissent group member whom Bishop Morlino had removed from a parish staff position due to her support for "women's ordination" and "gay marriage"? Infuriated, Call to Action "community organized" protests, and launched into media noisemaking. Recently I found two videos on YouTube that suggest Ruth Kolpack may be about to surface again in a film on the theme of "church workers' rights". The YouTube videos, which state they are "part of a work in progress about Ruth Kolpack's dismissal", misrepresent the reasons for Kolpack's firing, in fact they present it as being about almost anything but the real reasons, which are explained well in the Diocese of Madison's Frequently Asked Questions document on the case (to read about the reasons, scroll to p. 7 of the document, which also makes clear that someone who holds these beliefs is not in good standing in the Church). The maker of the video suggests she is the victim of a "conservative smear campaign". Does Ruth Kolpack or the filmmaker contest the fact that she is a Call to Action activist dissent group member who stands for "gay marriage" and "women's ordination" and opposes Catholic belief on those matters? In fact the YouTube videos do not mention that.
In the "Case for Ruth" video, I noticed just after the scene of the flier which faithful Catholics used to draw attention to Kolpack giving scandal, the film cuts to an interview with an unidentified man in the sanctuary of the formerly-Catholic Holy Wisdom Monastery., which dramatically left the Church. I can identify the place with great certainty since I have a photo with that organ in the background, that I took there myself when I went there to bring them testimonies from local lay Catholics on why Catholics shouldn't support the place. And yes, Holy Wisdom is strongly connected with Call to Action (and "women's ordination" and active homosexuality). The man interviewed in the Holy Wisdom sanctuary identifies himself as "a reporter and a concerned member of the diocese".
The filmmaker is identified by name at the end of the "Ruth's Story" video (the one on top). He supplies his email address and asks for "any relevant information about Ruth's firing". His LinkedIn profile indicates he is a "Director/Cameraman at Chicago Film Works." I cannot help but wonder if he was hired by Call to Action of Madison, of which Kolpack is a member.
Churches and religious schools have a very solidly established constitutional right to employ staff on the basis of their beliefs; this dispenses churches from some aspects of labor law that apply to other groups, so is referred to as as the ministerial exception. It protects the First Amendment right of religious freedom. To put it straightforwardly, Call to Action is making efforts to invent a "right" (in opposition to religious groups' constitutional right) for activists against Catholic teaching to work for the Church, without being subject to dismissal. Read on and I will show how they hope to do that.
Call to Action is one of the best known groups of anti-Catholic "Catholics". This remarkably destructive group exists for the purpose of activism against Catholic teachings and against legitimate Church authority, and they seem not to mind if they destroy people's relationship with the Church and tear parishes apart in the pursuit of this. While some see this as an effort to change the Church (even in matters that the Church has no authority whatsoever to change) some are frank that they think the Church needs to be destroyed in order to start a new church, organized democratically and embodying radical feminism and the values of the sexual revolution, and a marxist-type "liberation theology" approach to helping the poor.
Locally in our diocese, Call to Action was apparently responsible for fomenting rebellion and organizing a "recall" petition and media campaign against the parish priests of St Mary in Platteville, which tore the parish up and resulted in the closing of the parish school due to people withholding donations. There was nothing wrong with the priests, they were and are more liturgically traditional including celebrating not only Mass in English but also the Traditional Latin Mass, they made sick calls themselves rather than delegate that to lay people, and they were and are clear and faithful on doctrine and morals. But Call to Action decided they weren't going to put up with that kind of normal Catholic parish climate wherein dissent activity was unwelcome, and they tried to force the priests' removal. Bishop Morlino praiseworthily backed up the priests, and that courage paid off hugely, both in protecting the Faith, and in an increase of seminarians, and good priests transferring here from other places.
A case in 2002 involved four parish workers who unionized at Holy Spirit Parish in McAllen, Texas (and who unionized them? A CCHD grantee), which happened to be "the seat of dissident Call to Action activity in the diocese". When a new pastor arrived, he completely appropriately dismissed them, because they were Call to Action members! These individuals were "anti-Catholic" and "not in good standing with the Church", the priest explained. "Immediately after the firings, the local Call to Action chapter had 300 people meeting at a local community center, and calling for the bishop's resignation." The  national CTA organization mobilized, too. It was messy. Did I mention, this is a very destructive organization.
PASTORS, KEEP CALL TO ACTION AWAY FROM YOUR PARISH AND PREACH AGAINST MEMBERSHIP IN DISSENT GROUPS. THIS ORGANIZATION WILL HARM YOUR PARISH, IF IT IS PRESENT.
Back to the present day: recently CTA was among those actively objecting to Bishop Vasa of Santa Rosa, CA asking all Catholic school teachers to accept a contract addendum stating that they are a ministerial agent of the bishop, and that they assent to basic moral beliefs of the sort that have sadly become contentious in our society. This is exactly the right thing to do on Bishop Vasa's part, and is nothing new or unusual. The incomprehension of some teachers and parents in the schools recently led Bishop Vasa to wait a couple years to enforce this strictly and in the meantime apply himself to getting everyone's knowledge of Catholic teaching up to level. CTA is rejoicing on Facebook as if the requirement had been revoked. Certainly not!
They don't seem to be planning on letting go of this bone, but will doubtless continue to work on media efforts, unionizing schemes and the like to pressure and harass Catholic churches and schools to keep dissenters on staff. The week of March 12-19 Call to Action designated as a special "Church Worker Justice Week", for instance posting several graphics of this sort on their Facebook page: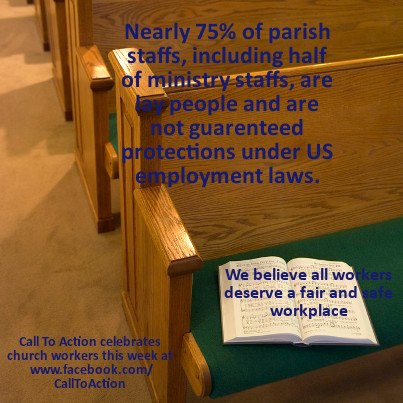 Another such image quotes a 1986 USCCB document in an effort to assert that the Church supports an unlimited right to unionize. Another warns that the 75% of Catholic school teachers who are lay women could be fired for "personal reproductive decisions". As Bishop Vasa determined, first there's a need to actually communicate the moral teaching and the reasoned explanation for it to the teachers. But, if only more Catholic schools did have the integrity and courage to not employ teachers who live at odds with the good morals they should be teaching the kids. The schools and churches have a constitutional right.
Catholic churches or Catholic schools should not employ  Call to Action members, and have a First Amendment right not to. The purpose of the CTA organization is to oppose various Catholic beliefs and promote an idea that Catholic teaching should be decided democratically.
Proving that one need not have a degree in theology to understand the flaw in that notion, outspoken atheist Penn Jillette recently refuted it handily: