There's been some very positive news for everyone who hopes for resolution of the serious problems in most communities of women religious whose leaders belong to the larger and far more troubled of the two US women's religious superiors' groups, the Leadership Conference of Women Religious.
The news is unfortunately not that there's been deep reform yet, but nevertheless good news: the head of the Vatican's Congregation for the Doctrine of the Faith, Cardinal Mueller, made a very forthright address April 30th to the leaders of the LCWR about the need for them to work closely with Archbishop Sartain and the other two US bishops who have been appointed for their reform and approving conference speakers and honorees. Mueller spoke firmly against their poor decision of honoring problematic feminist theologian Sr Elizabeth Johnson:
"It saddens me to learn that you have decided to give the Outstanding Leadership Award during this year's Assembly to a theologian criticized by the Bishops of the United States because of the gravity of the doctrinal errors in that theologian's writings. This is a decision that will be seen as a rather open provocation against the Holy See and the Doctrinal Assessment. Not only that, but it further alienates the LCWR from the Bishops as well."
Mueller addressed then a second objection, "namely that the findings of the Doctrinal Assessment are unsubstantiated. The phrase in the Doctrinal Assessment most often cited as overreaching or unsubstantiated is when it talks about religious moving beyond the Church or even beyond Jesus. Yes, this is hard language and I can imagine it sounded harsh in the ears of thousands of faithful religious. I regret that, because the last thing in the world the Congregation would want to do is call into question the eloquent, even prophetic witness of so many faithful religious women. And yet, the issues raised in the Assessment are so central and so foundational, there is no other way of discussing them except as constituting a movement away from the ecclesial center of faith in Christ Jesus the Lord."
Mueller's listeners were all aware it wasn't some guy at the Vatican but rather Sinsinawa Dominican Sister Laurie Brink who originally said the words about religious moving beyond the Church or even beyond Jesus, in a talk at a LCWR Assembly. In my book A Report on the Sinsinawa Dominicans Today, I give some more context for Sister Laurie's words, and I also quote a candid reaction of another Sinsinawa Dominican, Clare Wagner, after the CDF's Doctrinal Assessment for the LCWR and its fallout:
The phrase "unsubstantiated accusations" gave me pause and cause me to wince. That is because for myself, many religious and LCWR members the "accusations" are not "unsubstantiated."
We do support Network.
We talk about and look toward the choice of ordination for women.
We are at odds with some of the teachings on human sexuality.
We are radical feminists who oppose patriarchal domination.
We do at times challenge positions taken by bishops.
We do not agree to "submission of intellect and will."
We differ with the magisterium on ecclesiology.
We accept the Systems Thinking Handbook.
So there you have it from a sister, in case you didn't believe Cardinal Mueller. "The accusations ARE substantiated," says Sister Clare. If you want to see quite a bit of further substantiation, read my book about her religious congregation. While it is a minor contribution, actually many of the key parties in the LCWR dialogues have reviewed it. I did send it to the CDF, and Cardinal Muller's secretetary did reply not only that he received A Report on the Sinsinawa Dominicans Today, but that "The Prefect has looked through these materials, and thanks you both for your careful research as well as for you[r] obvious love for religious life in the Church." Sister Janet Mock the executive director of LCWR also replied, saying "I really look forward to reading it" and congratulating me on "adding to the body of work written about women religious". Archbishop Sartain also replied, saying that he had no role in regards to individual religious congregations but could tell I undertook the project out of love for the Church and religious life and the he would take a look at the book. Bishops Paprocki and Blair also replied with similar sentiments. Below, the message from the CDF: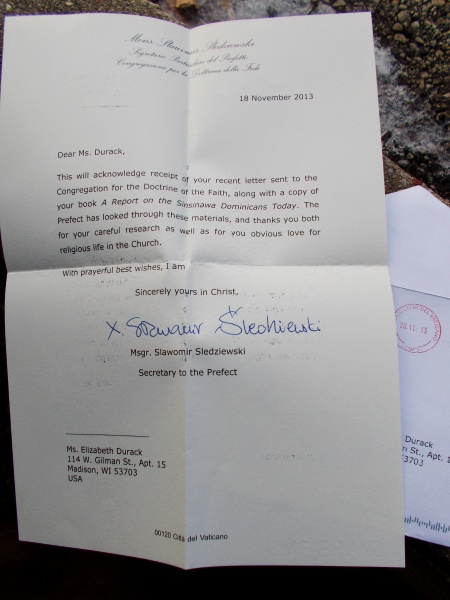 A friend commented to me yesterday about Cardinal Muller's recent address to LCWR, "It is nice to see someone in authority speaking about specifics directly, though still quite diplomatically.  I think your report was quite timely." While am grateful to be able to do any small service, precisely because I am motivated by love it really does make me sad that a book of this kind could even be needed or useful to the good of the Church and religious life.
Turning back to Cardinal Mueller's recent talk to LCWR, he gives an example of the problem of religious moving beyond the Church or even beyond Jesus: a spiritual thinker even more problematic than Sister Elizabeth Johnson, the new age figure Barbara Marx Hubbard who was an LCWR keynote speaker last year and promotes an ideology called "Conscious Evolution". This is similar to the Tielhardianism-gone-wild "new cosmology" or "universe story" ideas that have been "hot" among LCWR sisters for a number of years and mentioned in my Report.  Mueller said, "I am worried that the uncritical acceptance of things such as Conscious Evolution seemingly without any awareness that it offers a vision of God, the cosmos, and the human person divergent from or opposed to Revelation evidences that a de facto movement beyond the Church and sound Christian faith has already occurred." He points out to the sisters who seem ever excited by novelty, "the futuristic ideas advanced by the proponents of Conscious Evolution are not actually new. The Gnostic tradition is filled with similar affirmations…."
So, sounds like something the Sinsinawa Dominicans would love, right? Yes, Barbara Marx Hubbard appeared at the Sinsinawa Community Days gathering last August (2013) before moving on to (of course) the formerly-Catholic Holy Wisdom Monastery where she led a retreat. Madison based Sinsinawa Dominican Sister Joan Duerst wrote of the event at her order's motherhouse on the Sinsinawa vocations blog: "With inspiration from Barbara Marx Hubbard  www.bararamarxhubbard.com we saw  our personal and communal growth as part of the evolving universe. We are called to choose to be  part of evolution, that is  to a higher unity in love. We saw  American Dominicans as  one of evolution's most potent forces."
It is consoling for Catholics to remember there are some other American Dominicans, Sisters, nuns and friars who don't aim to be forces for "evolution" but still are trying to be among the most potent preachers of the Gospel of Jesus Christ.
Cardinal Muller's address to the LCWR leadership concluded: "The LCWR, as a canonical entity dependent on the Holy See, has a profound obligation to the promotion of that faith as the essential foundation of religious life. Canonical status and ecclesial vision go hand-in-hand, and at this phase of the implementation of the Doctrinal Assessment, we are looking for a clearer expression of that ecclesial vision and more substantive signs of collaboration." In other words, LCWR cannot continue to be a canonical entity if they are gnostics promoting beliefs so much at odds with Catholicism… by extension this really logically goes for individual religious congregations too.
LCWR states briefly that, following Cardinal Muller's bracing address, "The actual interaction with Cardinal Müller and his staff was an experience of dialogue that was respectful and engaging." Archbishop Sartain commented generically to the National Catholic Register that this ensuing conversation was frank, open, and respectful. This does not tell much except there was not a fistfight. I don't think the dialogue has broken down. I personally think there is at least a possibility that the LCWR may begin to adhere better to the requirement to consult with Archbishop Sartain on choosing speakers and so forth. I think we need to pray for those engaged in this dialogue.