This morning I noticed Pregnancy Helpline was packing up their things in a truck. This is a wonderful organization for people in need because of a pregnancy, which had their "Sharing Center" in the Holy Redeemer School Building. I spoke to two women Pregnancy Helpline volunteers who said they're very happy the school building will have a new purpose. The truck is headed for the Catholic Multicultural Center, 182 Beld Street (off of South Park Street), where their new quarters on the lower level of the Center are slightly smaller, but a bit nicer, and they pointed out this would be closer to the women who need their help. That's not far from the low income Badger Road neighborhood. This has worked out well for Pregnancy Helpline.
The hours at the new location will be every Saturday 9am-noon, except holiday weekends. The help they give includes supplying "maternity or children's clothing (up to 3T), diapers and formula free of charge." They've also been having "a Breastfeeding Clinic on Saturdays, led by a certified Lactation Consultant or certified Lactation Counselor."
The Pregnancy Helpline number for nonjudgmental counseling, assistance and referrals to hundreds of other different sources of help: 608-222-0008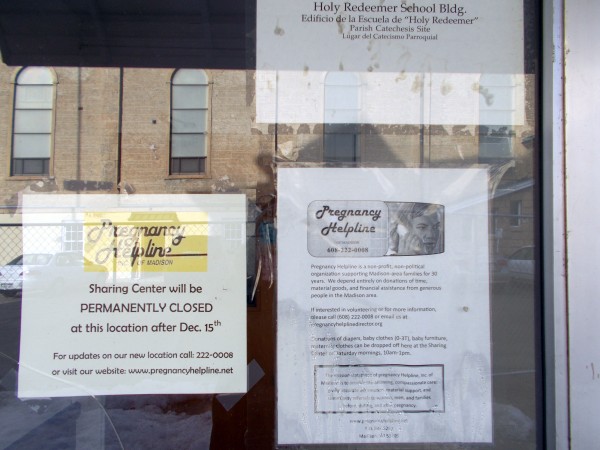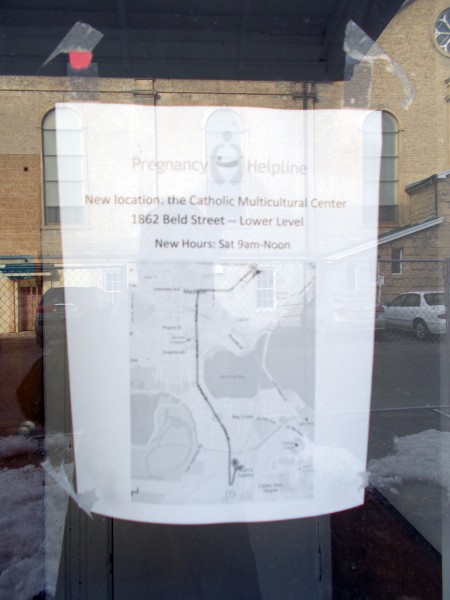 The Cathedral Parish's plan to turn the Holy Redeemer School building into apartments for Catholic Students associated with St Paul's is reportedly still on. In December I posted photos of the current interior, including the lovely but unused auditorium on the 3rd floor. A few of my friends are really unhappy with the plan. I support what Monsignor Holmes will decide to do, and he's really already decided and I am concerned not to see an unedifying struggle about it.
Catholic living environment for UW students is totally worth supporting. Even more is needed, but this would would be a great start: 55 new single occupancy bedrooms, grouped into 3-, 5-, and 6-bedroom units. In the last couple months there's been news of new construction of Catholic dorms on secular university campuses, groundbreaking not only literally but as the first of their kind in the US. The National Catholic Register had another extensive and excellent story about that just on Wednesday:
Matt Zerrusen, a 31-year-old devout Catholic and entrepreneur, believes faith-based housing that serves hundreds of college students is the gamechanger the Catholic Church needs in the New Evangelization. And it's a win-win, he said, because housing is something U.S. secular colleges and universities are desperate for.

"Probably 70% of Catholic students stop going to Mass, and 50% lose their faith when they go away to college," Zerrusen said. "They lack the support of a community they might have had in their family or parish, and some end up living in dorms outright hostile to living their faith."