President Obama has twice been to Madison this campaign season, and we have twice been on the scene with a pro-life and religious freedom protest, Oct 5 and then again today, scroll halfway down the article if you want the most current stuff first!
October 5 we were at the corner of University and N Park witnessing to people and then maybe to the president when his motorcade sped through the intersection on the way to the Bascom Hill rally on the University campus.
Corner of University and North Park, Thursday afternoon before President Obama's arrival for his campaign rally on UW Madison's Bascom Hill. Many walked right by, some looked in a neutral or curious way, some made a face or a rude noise, but a few smiled or gave emphatic thumbs-up. A few also stopped to argue or make an ugly comment. A little African American girl exclaimed with real delight at Our Lady of Guadalupe, but her mom roughly pulled her away and scolded the baffled girl as if we were an unsavory lot.
A woman approached and began questioning me, eventually deciding to let me know she was with the Capitol Times (leftist weekly free tabloid paper that used to be a daily). I now feel I know what it would be like to be interviewed by Rita Skeeter from the Harry Potter books. She was mostly interested in my religious freedom signs–dismissive, actually, of the concerns I expressed, but (hilariously) scrounging to find something wrong with what we were doing. She wanted to know what organization were we with (none, we are Catholics who just decided to come here), where were we from (I live in the middle of downtown–no, I didn't drive in from elsewhere), then had more loaded questions about were we with the diocese (no), and who does the bishop tell us to vote for (he doesn't, he and the other clergy talk about principles and teach the Catholic faith; I described these principles to her)! Finally, she walked away with no pleasantries. Later a friend emailed to say my picture was on the CapTimes liveblog, which was apparently what the reporter ( Pat Schneider) was doing with her cellphone while we talked: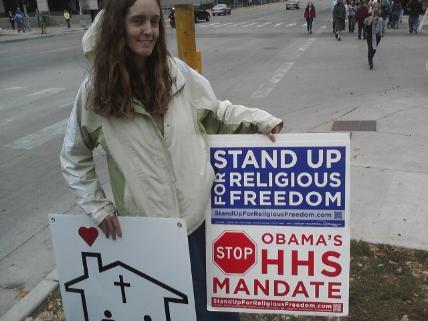 The police had elaborate security plans they implemented. I am especially fond of the police horses. The police horse in the picture below is a Missouri Foxtrotter and he was just awesomely calm and didn't put a foot wrong but did exactly what the police lady told him to do. Here they are navigating past a nervous bicyclist to tell the bus driver that the police tape to keep people back is being tied to his bus. Note that the pro life sign truck wound up right at the intersection for Obama to see.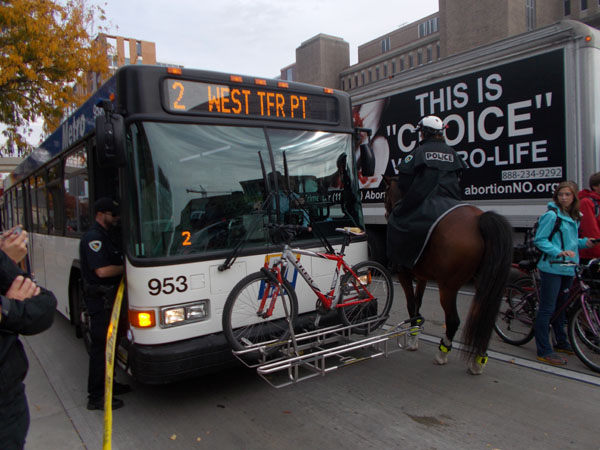 We were in a prime spot when the president sped by… preceeded by lots of motorcycle cops, black helicopters, various police cars and black SUVS. Did he see the religious freedom signs? Jerel yelled at the top of his lungs, as is his habit, and he really has a way with words: "I saw him wave! I saw the baby killer wave!" We were surrounded by Obama supporters but I think he is too peaceful and joyful to upset anyone. As he recounted on facebook later, "I was protesting and I was there and I saw the baby killer Obama He was waving in the car".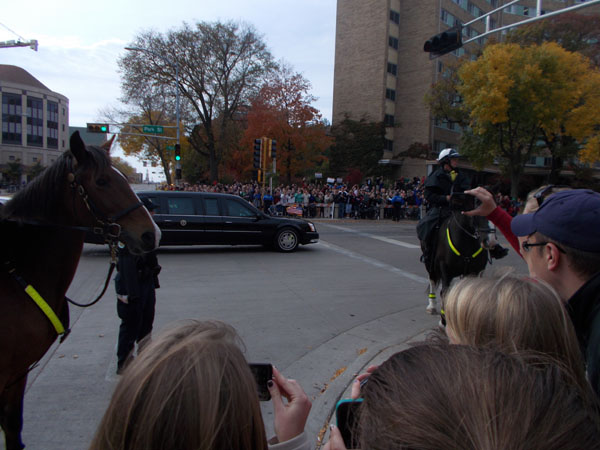 Fast forward to today! Day before the election and Obama was back AGAIN. But, wait, before we get to today, a blast from the past: on October 28, 2004 when I used to be a liberal and was not at that time a practicing Catholic, I was up front at the 80,000 person John Kerry rally on West Washington Avenue with Tammy Baldwin and Bruce Springsteen. That was the biggest rally in Madison ever. I touched John Kerry's arm! I took this picture myself: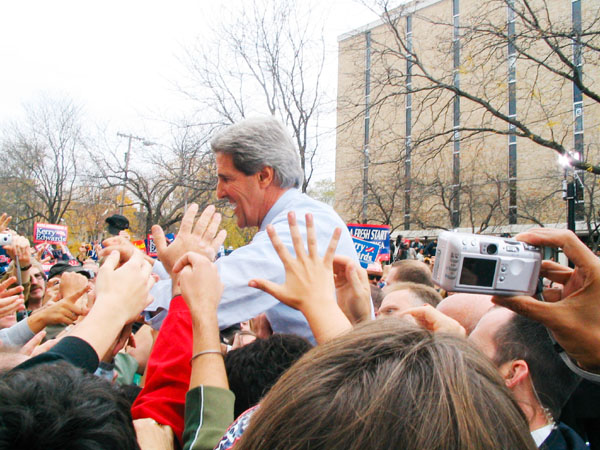 John Kerry won Wisconsin with a .04% margin of victory, yes even with 80k people rallying for him in Madison (and I looked it up, it was a Friday middle of the day, not a weekend). You want to know how many were at the rally today, which also had Tammy Baldwin and Springsteen just like that Kerry rally? 18k. There were 30k at the Bascom Hill rally in October. Do you think he is going to do as well or better in Wisconsin than Kerry did in 2004?
Now HERE is today: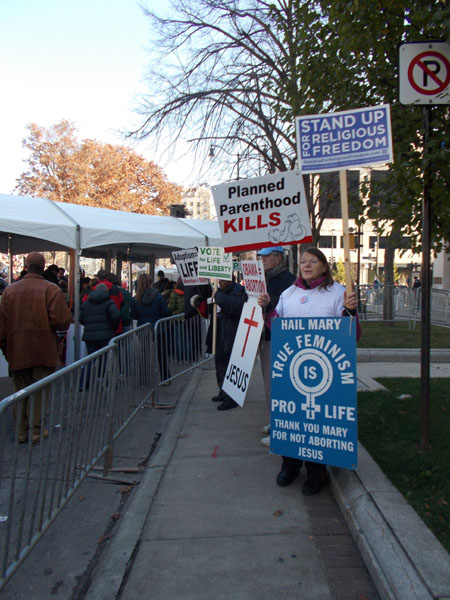 This is along Main Street on Capitol Square at the event entrance. We had a few people come to disagree with us a little, and a few approached us to support our message. We prayed the Rosary and the Chaplet of Divine Mercy, sang Catholic hymns like Holy God We Praise Thy Name and Salve Regina. Some of the 10k people there mainly were interested in Springsteen. I spoke to some international folks who were coming out of interest and curiosity, including two Indian Hindu gentlemen who liked the reference to Mother Teresa on my sign:
Above my religious freedom signs in the picture above, Jeanne is talking at length to a nice young man in the background whom I also spoke with later, who was not sure what he believed but was spiritually seeking and a kind person, he gave Jeanne some hand warmers and loaned me a pair of gloves. I know God loves this person. The rightmost policeman with his back to me kept turning and smiling at me and I at him, and after Jeanne and I were saying some things about "yay police!" finally he asked if I go to St Thomas Parish. I said no, I belong to the Cathedral Parish, but I asked if he knew Aaron Thompson–accomplished parish musician there who is black. He said yes, Aaron is a friend, a great singer and going to sing at his wedding!
My favorite comment about my "If abortion isn't wrong, nothing is wrong…" sign was later on after the rally, on State Street, from a black woman panhandler I've known by name many years. She read my sign and said thoughtfully, "that makes a lot of sense."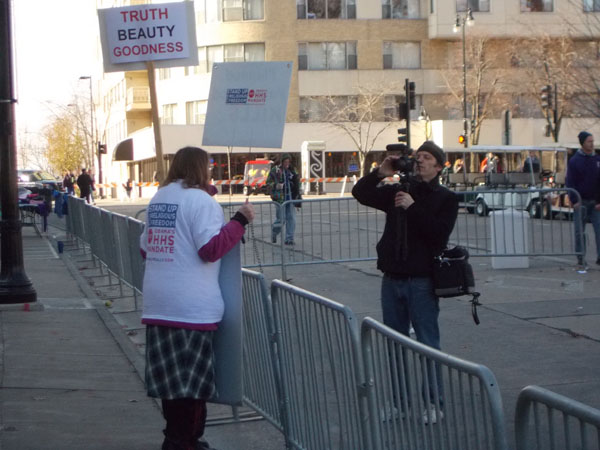 Besides the Perpetual Adoration Chapel at Holy Redeemer Church where there are always people praying, Fr Rick Heilman is going to be hosting all-day Eucharistic Adoration tomorrow election day at St Mary Pine Bluff parish, with Mass at 5:30, chanted Vespers, 15 decades of the Rosary, and Benediction in the evening. Across the country there are parishes doing similar things, including all night election-eve Adoration at the famed Assumption Grotto Parish in Detroit.
One of my first blog posts on Laetificat was of Cardinal Dolan's big Mass of Thanksgiving at Holy Hill this spring, with surprise presence of Governor Walker and Congressman Paul Ryan. I didn't post the full pictures at the time of Ryan and his daughter, because I think some politicians don't like their kids' pictures in public, but now all the Ryans are out in the bright lights on the Romney-Ryan campaign trail so it occurs to me to post these for your election-eve inspiration and enjoyment: