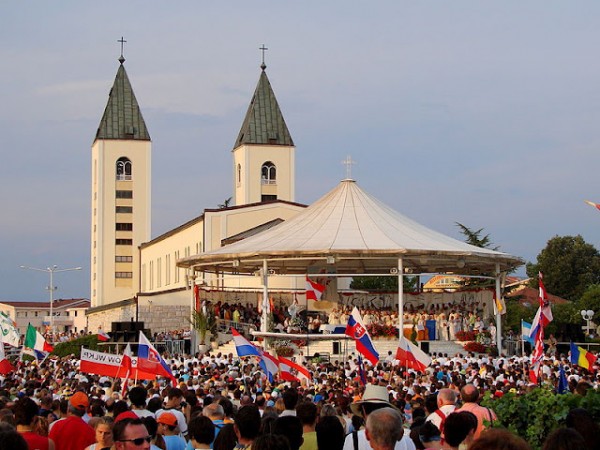 [Update in Nov 2012: I still get many people landing on this page via search engine so I thought I'd point out that the predictions about a new feast day did not turn out to be true and there is no indication that was anything other than inaccurate information. The other update since then is that the Medj commission at the Vatican is not going to be presenting their report to the Holy Father till some time in 2013 because they wanted to make time to thoroughly investigate and report on the many people who came to Medjugorje and were spiritually helped. Even a very great amount of such "good fruits" cannot guarantee a positive ruling on the Medjugorje phenomenon–besides the other criteria that must be met, don't forget there have been some real rotten fruits too. But the real good God has done in people's lives must be valued and respected, and is not nullified even if the alleged private revelations are disapproved.]
Fr George David Byers says today that he's been told by a Lebanese nun that the Holy Father Pope Benedict XVI has declared a new universal feast day of Our Lady of Peace [see Nov 2012 Update above]. Feasts of Our Lady under this traditional title are already celebrated locally in a few places in the world, but if Fr Byers is correct, the significance in this instance has to do with the Medjugorje phenomon. Fr Byers was also told that the Pope's decision on Medjugorje is coming this November [again, see Update above]. We already knew that the Vatican's Commission on Medjugorje was due to submit its report to the Pope by the end of the year, so this would make sense and it may be that they have already submitted it. There are likely millions of devotees of this doubtful private revelation, so the matter, and its pastoral handling, is intensely delicate.
I think the new feast day, if true (I can find no verification), offers to the many good people worldwide who have been devoted to Medjugorje a sound and truly ecclesial devotion to Our Lady, who indeed loves them as her children and gives peace… they were right about that all along even though not about Medjugorje. The other thing is, August 5 is the "Birthday of Our Lady" according to the Medjugorje apparitions, which they disobediently celebrate with liturgies and a big youth festival, even though the Church already HAS a liturgical feast of the Nativity of Our Lady on September 8th. That would have to stop, and a June 25th feast would supply a totally legitimate alternative celebration of Our Lady. Fr Byers interprets it thus:
The instant I heard that I thought that that means that the decision about Medjugorje will be negative, and that this is a way to demonstrate that our Holy Father and the Church don't hate our Lady. And… really… they love Jesus' Immaculate Mother. If it was to be a positive decision, it seems that one would wait for saying something about such a memorial of our Lady.

[…]

I bounced this off a most reasonable, faithful friend, and he said that this absolutely means without any doubt whatsoever that the decision about Medjugorje will be negative. He said no decision can be made positively about any apparitions while they are ongoing. Since the apparitions are continuous, daily, non-stop, this means that the only possible decision will be that the apparitions are not consonant with anything supernatural, or something even more negative than that, but nothing positive, except maybe to say some nice things about conversions that have taken place there, etc., trying to save any good that could have taken place just because so many people were involved from all over the world.
Some readers may need a refresher on what this is about. In 1981, 6 youths in the Bosnian town of Medjugorje (med-joo-GOR-ee-a)began to report that they were having visions and locutions of the Blessed Virgin Mary. Every day, in fact, and they're still at it. In the meantime they've grown up and all are married (one to a former Miss America). They and their once-obscure village have become the focal point of a large and lucrative industry, which the "seers" also make their living from, as people come to them from around the world, including very large numbers from the United States. There have been innumerable conversions, priestly and religious vocations and claims of miracles associated with Medjugorje. The alleged visionaries have also traveled the world, to receive "messages from Mary" at scheduled events in the presence of awed crowds in places as varied as the Vienna Cathedral, and, a number of years ago, a parish in the Madison Diocese.
Yet as it stands, the Church's official ruling on it is that it is not held to be supernatural. Official pilgrimages undertaken on the basis that the occurrences at Medjugorje are supernatural are forbidden, and the local bishop forbids clergy to present it as being supernatural and has forbidden the parish church of St James in Medjugorje to be called a shrine or for the "seers" to have "visions" in there, and forbids the Franciscans there from publishing or promoting the messages. Unfortunately, that doesn't stop them from doing so anyway–disobedience to ecclesiastical authority is a major feature of Medjugorje, with much detraction of the bishop too (even the locutions from "Mary" have detracted from the Bishop or urged disobedience). And there are many uglier things which I will not get into here, but this recent article in Crisis Magazine tells the sad story. For more detailed information, this website full of official documents on Medjugorje is the top resource.
Saint John of the Cross is the Doctor of the Church to whom the Church looks above all others as teacher in regards to mystical theology. This article describes his highly cautionary teaching in regards to private revelations.
If you read the Crisis Magazine article then this document written in 1978 for bishops on criteria for discernment of alleged private revelations, you will understand why many today conclude, to a moral certainty, that Medjugorje will be disapproved. For more insight into Pope Benedict's traditional thought on the matter of private revelation, see his Theological Commentary on the Third Secret of Fatima at the end of this document, when he was Cardinal Ratzinger, Prefect of the CDF. His analysis wasn't universally well liked by all Fatima devotees, but it truly follows John of the Cross and the other Doctors and I find it some of the best thought on the subject in recent times.
The Holy Father presented a Golden Rose most sweetly before the image of Our Lady in Fatima in 2010: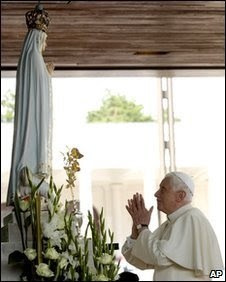 Our Lady,
Mother of all men and women,
I come before you as a son
visiting his Mother,
and I do so in company
with a multitude of brothers and sisters.
As the Successor of Peter,
to whom was entrusted the mission
of presiding in the service
of charity in the Church of Christ
and of confirming all in faith and in hope,
I wish to present to your
Immaculate Heart
the joys and hopes
as well as the problems and sufferings
of each one of these sons and daughters of yours
who are gathered in the Cova di Iria
or who are praying with us from afar.

Mother most gentle,
you know each one by name,
you know each one's face and personal history,
and you love them all
with maternal benevolence
that wells up from the very heart of Divine Love.
I entrust and consecrate them all to you,
Mary Most Holy,
Mother of God and our Mother.

[Prayer of Pope Benedict XVI at Fatima, May 2010]