My mom is into geneaology research. Occasionally her discoveries are interesting. We're descended from executed Salem "witch" Mary Eastey, who was obviously not a witch but a good wife and mother who wrote a deeply Christian letter forgiving her accusers and killers. On my dad's side I'm descended from Joseph Broussard, who led the French Catholic Accadians out of present day British Columbia where the English conquered and were not especially kind particularly in terms of religious freedom, down to Louisiana–the Cajuns.
Then a couple of years ago Mom (whose name happens to be Margaret) found that we're descended from Saint (Queen) Margaret of Scotland. Today's St Margaret's feast day, so I've been reading to know more about her.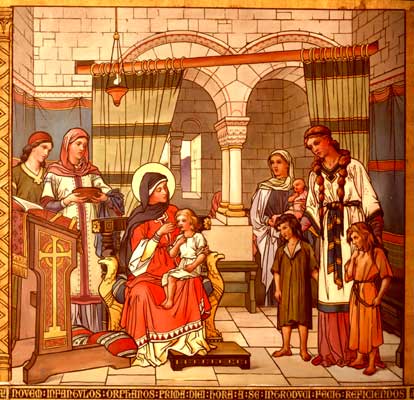 Saint Margaret of Scotland, to make a long story short, was born in Hungary in 1045 the granddaughter of King Edward Ironside of England, and came to England before getting shipwrecked on the coast of Scotland where she became the bride of Scottish king Malcolm III. Malcolm seems to have been somewhat uncouth, and not particularly religious, and not literate, but clearly he deeply loved Margaret. Today St Margaret of Scotland is one of the most loved married Saints. She was a devout, contemplative and educated Catholic and her husband lent his royal authority and resources to her many initiatives of charity to the poor and bringing religious practice in the country up to par and into sync with the universal Church in union with Rome. She was an ideal mother, and besides her own children she nurtured many little orphans herself in the midst of royal splendor. She corrected the schedule of the Lenten fast in that country in accord with the universal calendar and was an edifying example to her people of keeping the fast in accord with Catholic precept, and kept an Advent fast as well. Shortage of priests meant Mass was not always available to all the people, but she urged and educated people to observe the Church's precept of Easter Communion. Queen Margaret went out to visit the independent minded Celtic hermits in the countryside who were part of the legacy of the monk St Columba's 7th c evangelization of Scotland, begging their prayers and asking them to direct her to do some work of charity to the poor.
I find online that St Andrew's Episcopal Church on Regent Street is having a choral Evensong (Book of Common Prayer type version of Vespers/Evening Prayer) tonight in honor of my greatgreatgreatetc grandmother's feast day. Anglicans cherish this Saint as part of their heritage too; she must be praying for Christian unity as in her day she strengthened the unity with Rome, of the Christians in Scotland. I won't be there, but heading to Mass at St Paul's soon where I hope her propers will be used–she shares her feast day with St Gertrude and the priests can pick which one. I know I will be praying for St Margaret's intercession for myself and all my family.
[Update: Fr Eric Nielsen celebrated the Mass of St Margaret of Scotland! At Mass we are all together very much with the Saints, in the presence of the Sacrifice of Jesus the Eucharist we are simply together, whether in heaven or on earth. And the Friday evening Mass at St Paul's is always the Novus Ordo in Latin. In GGGetcGrandma's time the locals had fallen into celebrating Mass in the local Gaelic and one of her beneficial reforms was to have them use Latin as the universal Church did.]
I had a thought today. I pray every day at Evening Prayer for all of my ancestors and relatives (up to and including all people) who have died and are being purified in Purgatory so they can be in the immediate presence of God in heaven. Saint Margaret similarly, from her perspective before the face of God in eternity, is praying every day for all her descendents and relatives, including me. A priest said that to me today, after someone told him St Margaret was my ancestor: she has surely been praying for you all along!
What good friends we have in the Saints! And what good family! It's just the few that are canonized the Church attests infallibly are there for sure, and we can ask them with confidence to pray to God for us, though we may not know the names of all who are in our family tree who are among the blessed, and I know I feel a special confidence they will not refuse or neglect to pray for us!
If you have a canonized Saint in your family tree, post a comment and tell.