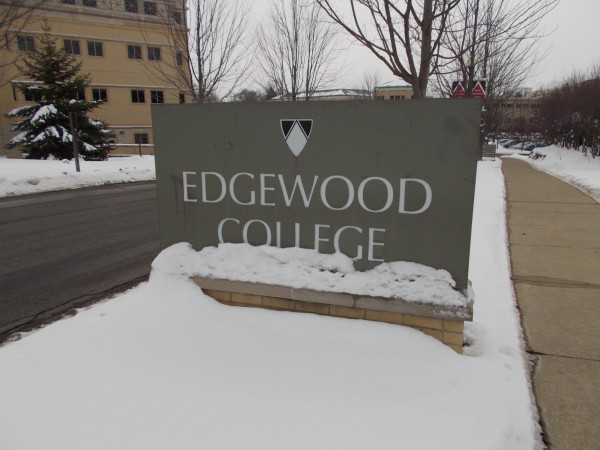 It is not a surprise that Edgewood College chose the internal candidate from among the three finalists identified in their search process: Scott Flanagan, who had formerly been the Executive Vice President. None of the candidates had any appearance of being people oriented toward strengthening Catholic identity, which on a scale of 1 to 10 is maybe about negative 2 at Edgewood College.
In all my involvement with the Catholic Church locally over the past 8 years, only once, maybe 4 or 5 years ago, did I ever meet a current Edgewood student at a Catholic event (a St Paul's event). I may have even run into her a couple of times. When I went there personally to find out about whether it would be possible for me to get an education there that would be supportive of my Catholic faith, after a careful inquiry to the relevant staff and faculty my conclusion was that no, that was not available at Edgewood. Also the place seemed festooned with "glbtq" everything. There was no pro life club. The campus ministry lady found the Catechism of the Catholic Church objectionable. Etc.
I have not stopped praying for Edgewood College of the Sacred Heart (and the other Edgewood schools). I will pray for Scott Flanagan. The leaders of this school must be aware of Ex Corde Ecclesiae, the Church's document on Catholic identity in higher education. Do they know there are local Catholics who would like to have the opportunity for Catholic higher education in our community? We would like all the good of the Catholic intellectual, moral and religious tradition to really get shared with our Madison community.
The search committee picked a guy they believe can handle the financial and enrollment aspects of Edgewood. How will Scott Flanagan work to restore the mission of Edgewood as truly a Catholic school for the flowering of a Christian culture in our time and place?
Should I send him my Sinsinawa book? Not necessarily. I have a copy of this book on authentic Catholic education in the Dominican tradition, maybe I'll send him that with a letter about how Catholic identity of Edgewood is important to us. Anyone else have any comments about your positive hopes for Edgewood College?